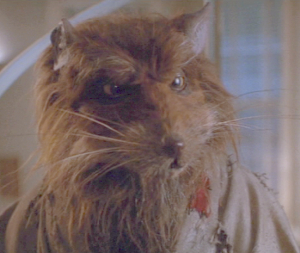 MASTER SPLINTER
Position: Aged Hobo
Colour of Choice: Purple
Weapon of Choice: Unarmed
Played By: Kevin "Elmo" Clash
PL 9 (106)
ST 10/18 (+4) DEX 8/16 (-1/+3) CON 12/20 (+1/+5) INT 18 (+4) WIS 20 (+5) CHA 14 (+2)
Skills:
Acrobatics 4 (+3/+7)
Diplomacy 9 (+11)
Disguise 2 (+4)
Handle Animal 4 (+6)
Knowledge (Art) 8 (+12)
Knowledge (History) 5 (+9)
Knowledge (Theology & Philosophy) 4 (+8)
Language (Japanese, English) 1
Medicine 4 (+8)
Notice 6 (+11)
Search 4 (+9)
Sense Motive 4 (+9)
Stealth 7 (+6/+10)
Survival 6 (+11)
Feats:
All-Out Attack, Assessment, Attack Focus (Melee) 2, Blind-Fight, Cunning Fighter, Defensive Attack, Defensive Roll 3, Defensive Throw, Dodge Focus 2, Improved Critical (Unarmed) 2, Improved Disarm, Improved Trip, Power Attack, Redirect
Powers:
Chi 8 (Flaws: Tiring) [4]
Saves:
Toughness +1 (+5 Chi, +7 D.Roll), Fortitude +2/+6, Reflex +3/+6, Will +8
Combat:
Attack +10 (+12 Melee), Damage +0 (+4 Chi), Defense +8 (+11 Dodge), Initiative -1/+3
Abilities: 22 / Skills: 68--17 / Feats: 19 / Powers: 4 / Saves: 8 / Combat: 36 (106)
-Splinter's almost as important to the TMNT canon as the boys themselves are, and he defines the "Wise Old Master" archetype better than anyone not named "Miyagi". In the movies, he was a background guy for the most part, but still gave important information towards the boys' origins, made them some friends, and turned the young Daniel to their side by the end. Oh, and he beat The Shredder when none of the others could. Though his movie origin was the same as his retarded initial one (he's a RAT who learned MARTIAL ARTS?), they probably did him better than just about any other medium I've seen.
-Guys like Splinter are hard to stat up, because they're supposed to be elite old masters, but are now physically decrepit and weak. I figured the best way was to make him supremely accurate in combat, and hard to hit, but also make him reliant on Tiring boosts (ie. Chi) for all of his damage-dealing and quickness-based moves. This gives him just enough ability to Bluff out Shredder when he crazily charges at him, and toss him off a building ledge, for instance. He's also nearly equal to all his boys for at least a couple rounds, before his Chi wears off and he's exhausted.