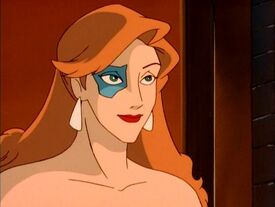 FOX (Janine Xanatos, nee' Renard)
Played by: Laura San Giacomo
Role: Evil Woman, Protective Mother
PL 9 (135)
ST 14 (+2) DEX 20 (+5) CON 16 (+3) INT 20 (+5) WIS 18 (+4) CHA 18 (+4)
Skills:
Acrobatics 6 (+12)
Bluff 6 (+10)
Computers 2 (+7)
Diplomacy 2 (+6)
Disable Device 4 (+9)
Drive 2 (+8)
Escape Artist 2 (+8)
Gather Information 3 (+7)
Knowledge (Arcane Lore) 2 (+7)
Knowledge (Art) 3 (+8)
Knowledge (Business) 4 (+9)
Knowledge (Current Events) 4 (+9)
Knowledge (Pop Culture) 3 (+8)
Knowledge (Streetwise) 4 (+9)
Knowledge (Tactics) 4 (+9)
Knowledge (Theology & Philosophy) 4 (+9)
Notice 5 (+9)
Pilot 4 (+10)
Profession (Stuntwoman) 4 (+9)
Perform (Acting) 4 (+8)
Search 3 (+7)
Sense Motive 3 (+7)
Stealth 5 (+11)
Feats:
Accurate Attack, Acrobatic Bluff, Attack Focus (Ranged), Attractive, Beginner's Luck, Benefit (Wealth), Benefit (Daughter of Titania), Defensive Attack, Defensive Roll 2, Defensive Throw, Dodge Focus 4, Equipment 3 (Firearms +5, Other Weapons), Improved Aim, Improved Critical (Rifle), Improved Critical (Unarmed), Improved Defense, Improved Trip, Leadership, Power Attack
Saves:
Toughness +3 (+5 D.Roll), Fortitude +5, Reflex +7, Will +5
Combat:
Attack +11 (+12 Ranged), Damage +2 (+5 Rifle), Defense +8 (+12 Dodge), Initiative +6
Complications:
Responsibility (Loves Xanatos- as much as someone like her is capable of that emotion)
Responsibility (Son, Alexander)
Abilities: 46 / Skills: 84--21 / Feats: 25 / Powers: 0 / Saves: 5 / Combat: 38 (135)
-Fox has a bit of a weird history on Gargoyles. Not exactly a well-rounded character at first, she started out as a generic money-grubbing mercenary type under cover of being a TV action heroine, as the leader of The Pack. Her canine-themed group ran afoul of Lexington & the other Gargoyles, and then proceeded to become the Official Jobbers of the franchise, repeatedly fighting them in smaller and smaller groups because Demona, Macbeth & Xanatos were the Big Three. But Fox on her own willingly stayed in prison rather than escape, so she ended up with an early parole, where it was revealed she was boinking Xanatos this entire time. You see, his whole plot was to spring The Pack so she could get out early (legally).
-Fox ended up being "Xanatos' Girlfriend" for a while, not doing nearly as much as the other characters, but she ended up getting her own swack of backstory (this show was REALLY REALLY BIG on introducing generic characters and then giving them mini-novels worth of background information and secrets)- she was the daughter of Halcyon Renard, a Xanatos rival at Cyberbiotics (the generic rival corporation in the very first story arc- see what I mean about the backgrounds?). Her mother was secretly Titania, Queen of the Faer-Folk or what have you, and she & her original husband Oberon came calling to take Fox's baby for magical training (since Fox didn't learn any). The resulting battle gave Fox a Mama Bear attitude, and helped her character out significantly.
-Fox is a PL 8.5, with a TON of points devoted to her wide Skill set and array of Feats. She's a fantastic fighter, but lacks enough raw power to handle a Gargoyle on her own without firearms. She's pretty much like most of my other "Agent" type builds, as she was among the few Pack members to not get pscyo-upgrades partway through the first season. She does have a unique Benefit, as her status as a Child of Oberon (the name for magical creatures in the show) gives her an occasional Hero Point-deducting super-magical Blast of power, but only for a big Complication (ie. her son).