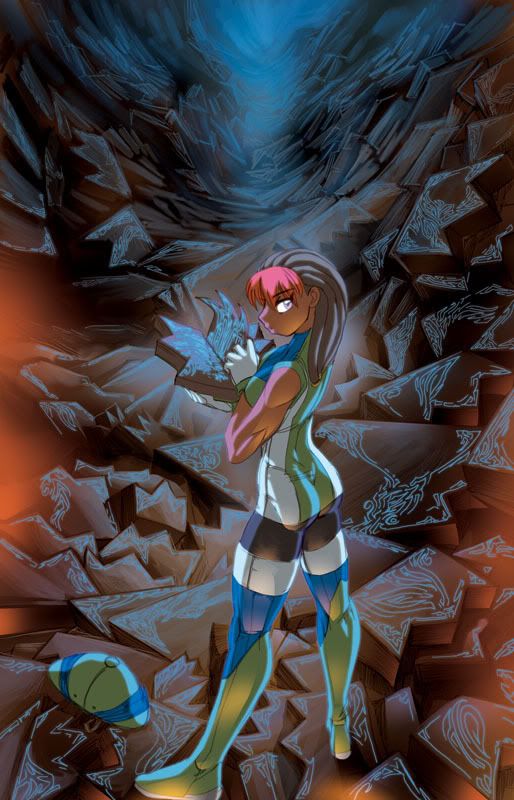 PENNY PINCER
(PL 10, 193 total pp)
Ability Scores
STR 13 (+1), DEX 12 (+1), CON 12 (+1)
INT 36 (+13), WIS 13 (+1), CHA 12 (+1)
Combat
Attack +8 (+12 crossbow), Damage +1 (unarmed)
Defense 18 (14 flat-footed)
Grapple +9, Initiative +1
Saves
TGH +5 (+1 flat-footed), Fort +4, Ref +8, Will +4
Skills
Bluff 4 (+5), Climb 4 (+5), Computers 8 (+21), Craft: Chemical 12 (+25), Craft: Electronic 4 (+17), Craft: Mechanical 8 (+21), Craft: Structural 4 (+17), Diplomacy 4 (+5), Disable Device 8 (+21), Gather Information 8 (+9), Investigate 8 (+21), Knowledge: History 8 (+21), Knowledge: Life Sciences 12 (+25), Knowledge: Physical Sciences 8 (+21), Knowledge: Technology 8 (+21), Medicine 12 (+13), Survival 4 (+5)
Feats
Attack Specialization 2 (crossbow), Attractive 2, Benefit 4 (Explorers' Society Member, Wealth 3), Connected, Contacts, Defensive Roll 4, Eidetic Memory, Improved Aim, Inventor, Precise Shot, Skill Mastery (Craft [Chemical, Mechanical], Knowledge [Life Sciences], Medicine)
Powers
Gadgets 10
(easy to remove) (60pp)
Ability Scores 38, Skills 31, Feats 19, Powers 60, Combat 32, Saves 13, Drawbacks –0 = 193
Penny Pinser is Gina's arch-rival in the world of "adventure archaeology." She is in many ways Gina's equal: in intellect, ingenuity, ambition and material resources. A bit more vicious than Gina (though only a little), Penny often goes far out of her way, at great expense, just to show Gina up. The two girls repeatedly run into one another while on the trail of lost treasures and even find themselves competing for the same men. Penny enjoys calling Gina "Gold Digger" to her face, so in response, Gina has come up with the nick-name "Penny Pincher". While her advances towards Kevin "Ace" Koss were being turned aside early, Penny persisted enough that she and Ace are now considered an item.

Adventuring with Gina and Ryan, Penny gained herself a friend and bodyguard in the form of the genetically created harpy named Charlotte. During Gina's finacial troubles, Ace convinced Penny to end her rivalry and she has proven to be a competitive friend ever since.
Penny is very similar to Gina -- they are rivals, after all. Penny is better at Life Sciences and Chemistry, whereas Gina is better at Physical Sciences.
Penny usually has some of her Gadgets points set aside for her Beta-Engine powered Crossbow. She is also a dirty fighter.