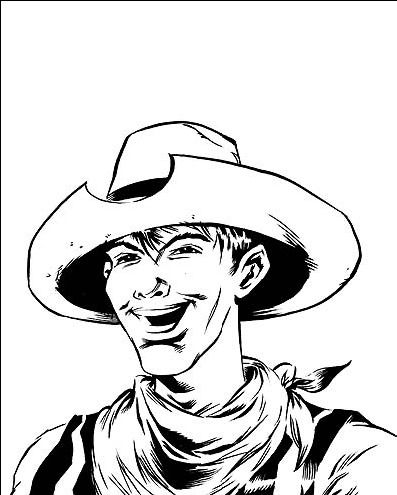 The Tall-Tale Kid
PL 10 154

Abilities
Strength 1, Stamina 3, Agility 2, Dexterity 2, Fighting 7, Intellect 1, Awareness 3, Presence 4
Powers
Tall-Tale Kid
(Alternate Form, Free Action, Quirk-Requires an audience)
70
Impossibly gifted
Luck 5
5
Powers of Legend
Variable 12 (powers of american legends and folk tales, Removable-requires object focus, Quirk-can only allocate with new objects)
66
Advantages:
Language 1 (Spanish, base-English), Fascinate (Storytelling), Ranged Attack 5
Skills:
Athletics 3 (+4), Expertise (storytelling) 5 (+9), Acrobatics 4 (+6), Expertise (folktales) 7 (+8), Sleight of Hand 7 (+9), Ranged Attack (pistol) 6 (+13), Close Attack (axe) 2 (+9), Expertise (retirement home worker) 4 (+5),
Offense
Initiative +2
Unarmed +7 Damage 1
Defense
Dodge 7 (
5
), Parry 7
Toughness 5/3, Fortitude 6 (
3
), Will 7 (
4
)
Abilities 46+Powers 70+Advantages 7+Skills 19+Defenses 12=154
•Jefferson Davis Henderson was always a small boy, a weak boy who lost himself in stories-tales of American legends and mythic figures. One day, while working at the retirement home he was director of, telling stories to the residents, he fell off a ladder and bumped his head. When he woke up, it wasn't Jefferson Henderson who saw his surroundings. It was a new person, braver, more sure of himself, so long as he had an audience to play to. A man with a lasso that could capture the clouds, a grinning thief who would steal the stars, a hard working american man with an axe to fell whole forests. The Tall-Tale Kid. Since that day, Jefferson's alter has rounded up a posse, the Tall Talesmen, and committed a series of insane crimes.
•JDH is a nothing, a nobody, a nice enough fellow who can entertain the heroes with a story or two. But the Tall-Tale Kid is someone whose antics shall never be forgotten. Heroes should try to stop him, but should often be just as impressed by him as anyone else. At least once per session, the Kid should be pulling off tricks that leave the PCs saying 'No way!' or 'How did he do that?' And because he's not really a bad guy, heroes won't feel as compelled to bring him to justice. His powers work by taking an ordinary object and turning it into something extraordinary, like Pecos Bill's lasso, or Paul Bunyan's axe, or a mythical pair of six shooters with bullets that can take a flea off a dog's hide at a hundred paces. The Kid should really push the bounds of what a variable structure can do-no power or stunt should be deemed too outlandish.