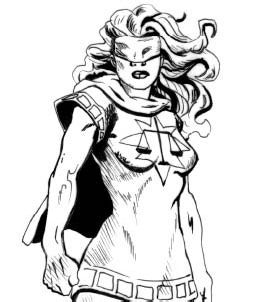 Lady Justice
PL 11 211

Abilities
Strength 13, Stamina 10, Agility 9, Dexterity 9, Fighting 9, Intellect 6, Awareness 4, Presence 5
Powers
Tough Skin
Impervious Toughness 9
9
Flying
Flight 6
12
Magic senses
Senses 6 (Detect Magic, Radius 3, Accurate Hearing)
6
Advantages:
Accurate Attack, Assessment, Benefit 4 (Wealth), Defensive Attack, Improved Critical (unarmed), Precise Attack (close, concealment), Sidekick 24 (Liberte), Language 2 (French, Japanese)
Skills:
Expertise (science) 7 (+13), Expertise (occult) 2 (+8), Expertise (business) 2 (+8), Perception 1 (+5)
Offense
Initiative +9
Unarmed +9 Damage 13
Defense
Dodge 12 (
3
), Parry 12 (
3
)
Toughness 10, Fortitude 15 (
5
), Will 6 (
2
)
Abilities 130+Powers 27+Advantages 35+Skills 6+Defenses 13=211
•An American businesswoman and geneticist, LeAnn Sniegowski also suffered from Type II diabetes, somethign she was working to cure. She developed an experimental serum, using synthetic DNA she had created. The government refused to allow testing on humans, so LeAnn injected herself, desperately hoping for a cure. She fell into a coma for more than a week, hovering near death. When she awoke, she was cured and displayed super powers. Eventually, she decided to help people in a way the government couldn't control, becoming Lady Justice and focusing more on what was morally right rather than the letter of the law. She created and funded the Guardians, a superhero team that eventually disbanded following a mission in outer space that turned into a disaster. Following this, she moved her the HQ of her company to Paris, where she met the boy who would become Liberte, taking him under her wing to protect justice. In public, the two act as aunt and nephew.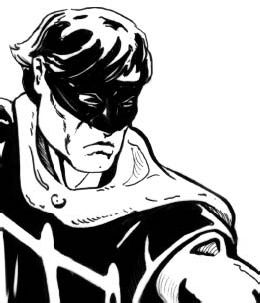 Liberte
PL 8 120

Abilities
Strength 1, Stamina 3, Agility 2, Dexterity 2, Fighting 6, Intellect 1, Awareness 2, Presence 2
Powers
Flying
Flight 4 (30 MPH, 500 feet per round, Subtle)
9
Damage Absorption
Protection 8, Impervious Toughness 11, Reaction Personal Healing 8, Limited-ranks of Healing equal to ranks of attack
43
Advantages:
Defensive Attack, Improved Defense, Improved Initiative, Precise Attack (close, concealment), Ranged Attack 4
Skills:
Close Combat (unarmed) 3 (+9), Expertise (criminal) 4 (+5) Technology 6 (+7), Sleight of Hand 5 (+7), Stealth 6 (+8)
Offense
Initiative +6
Unarmed +9 Damage 1
Defense
Dodge 6 (
4
), Parry 6
Toughness 11, Fortitude 5 (
2
), Will 6 (
4
)
Abilities 38+Powers 52+Advantages 8+Skills 12+Defenses 10=120
•A former street thief, Jamie Lauder planned to double-cross his bosses and sell some of their stolen goods in order to get him and some others of Paris' downtrodden out of the city and crime forever. However, he was ratted out and beaten harshly, left for dead. His latent powers activate, and he absorbed just enough energy from the last attacks to survive the first ones. Lady Justice found him, and he gave her information on the criminals she was after. She agreed to protect Paris' street kids so long as Jaime accompanied her to learn more about his powers. This began the first real good stage in Jamie's life, as the flying sidekick Liberte.