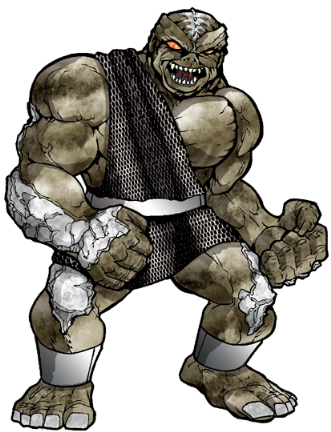 Magog
PL 15 181

Abilities
Strength 15, Stamina 14, Agility 2, Dexterity 2, Fighting 13, Intellect 0, Awareness 0, Presence 3
Powers
Large
Permanent Innate Growth 5
11
Bone Plates and neurotoxin
Strength-based Damage 2, Linked to Cumulative Affliction 12, Resisted by Fortitude, Impaired/Disabled/Incapacitated, Limited-Affliction does not take effect if damage is not successful
14
•
Toxic Spit
Ranged Affliction 7, Resisted by Fortitude, Impaired/Disabled/Incapacitated
1
Sikkai
Immunity 3 (cold, disease, heat)
3
Strong Legs
Leaping 1
1
Resilient
Protection 3, Impervious Toughness 9
12
Advantages:
All-out Attack, Precise Attack (close, concealment), Improved Critical (unarmed), Improved Initiative, Improved Trip, Instant Up, Power Attack, Startle, Ranged Attack 8, Takedown, Language 2 (Spanish, English, base-Sikkai)
Skills:
Technology 5 (+5), Intimidation 10 (+15), Expertise (tactics) 8 (+8), Perception 6 (+6), Stealth 11 (+8), Insight 6 (+6)
Offense
Initiative +6
Unarmed +13 Damage 17 and Affliction 12
Defense
Dodge 11 (
11
), Parry 11
Toughness 17, Fortitude 14, Will 8 (
8
)
Abilities 78+Powers 42+Advantages 19+Skills 23+Defenses 19=181
•Magog (not his real name, which is impossible to pronounce in a human tongue) was the leader of the last of 3 invasions of Earth conducted by the Sikkai, a warrior race living in interdimensional space (the Grey). When the invasion failed, the Sikkai fled and closed their world-spanning portals, leaving their leader behind as punishment for his failure. Since then, he's been in hiding, waging a one-Sikkai war on Earth. As such, his targets can range from secret military installations to population centers and anything else. When the entire planet is your enemy, you can throw a rock out a window and hit your target.
•A genetically altered leader of a warrior race, Magog is a dangerous foe. While not particularly intelligent, he's skilled in warfare and has a commanding personality. In addition to his enormous strength and toughness, his body secretes a neurotoxin he can either strike with or spit (perhaps catching some targets by surprise). Those few that can stand against him (including Hardcore of the Sentinels) only earn themselves even greater hatred. Your average Sikkai soldier is probably a PL 10, but massively undercapped on defense, like Magog, on account of their size and toughness. Just take Magog's stats and turn the dial back a few notches to get a dangerous but not insurmountable group of alien Mooks for PCs to take down in droves.