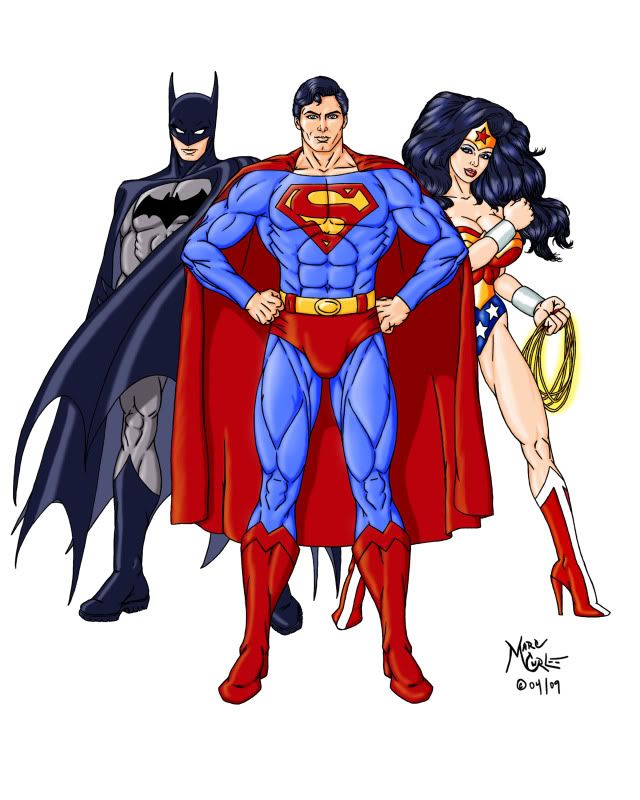 Artwork by ME!
DCEAU HEROES
Adam Strange
Aquaman
Arrowette (PC)
Atom
Batgirl (PC)
Batman
Catwoman (PC)
Flash
Green Lantern 2814.1 - Hal Jordan
Green Lantern 2814.2 - Guy Gardner
Hawkgirl
Nightwing (PC)
Power Girl (PC)
Robin II
Starfire
Supergirl
Superman
Titania (original character)
Wonder Woman (PC)
Javelin 7
Watchtower, League info
DCEAU VILLAINS
Bane
Cheetah
Clayface
Copperhead
Devil Ray (the cool version)
Grodd
Harley Quinn
Joker
Killer Croc
Lex Luthor
Mister Freeze
Scarecrow
Shade
Solomon Grundy
Star Sapphire
Starro the Star Conqueror
Two-Face
Ultra-Humanite
DCEAU SUPPORTING CAST
Alfred Pennyworth
Lucius Fox
DCEAU UNNAMED HORDES
Amazon Warriors
Atlanteans and Atlantean Warriors
BARRACUDA Aqua Troopers (Devil Ray)
Gotham Underworld Enforcers
Kryptonians
Police Officers: Patrol Officers, Detectives, SWAT Officers, SWAT Snipers
Secret Service Agents
US Military Personnel: Army Soldiers, Pilots, Navy SEALs
DCEAU ITEMS OF INTEREST
Galactic Guidebook: Languages
Timeline of the DCEAU
ADDITIONAL RULES
House Rules
Tough Scale Characters
GAME QUOTES
Quotes 1
Quotes 2
Quotes 3
OTHER GAMES OTHER WORLDS
RACIAL TEMPLATES
Elf: Sindar
FLINTLOCK FANTASY: The World of Taeryth (Original setting)
Introductory Paragraph
Horses
Humans - Basic Archetypes
DCEAU
I am running a campaign set in what I call the "DC Earth Alpha Universe". My friends have convinced me to post the builds here, for your edification and amusement.
The DCEAU reflects my own personal "take" on the DC Universe, modified by the changes the Players make for their own Characters; my nostaglic remembrances of DC comics as they were in ages past, before the hated Dan Didio arrived and did unspeakable things to my childhood heroes.
Many elements of the game are drawn from the Bruce Timm / Paul Dini "DCAU", but there are also characters who have been altered slightly, some who have been altered almost completely, and some who have been added whole-cloth.
MANY
DC characters have been eliminated altogether.
Ground Rules
: The campaign is set at an overall PL of 10, but individual characters are assigned their PL by the GM (me). Im trying an experiment here; Ive allowed my Players to write their characters up to "feel correct", without any kind of point total limit. Characters in the same group need not match each other in either PL or point total. The Players are given a PL to play with when they choose a character, and are free to write the character up as they see fit.
Players have been given the option to either draw from existing DC characters, or to create their own. Three of the Players have chosen to play established characters, more or less as they appear in the general DC continuity. The fourth Player has opted to play "variants" on established characters; superheroes whose powers and abilities are known, but whose backgrounds have been altered to give the Player more what that Player wants.
I am posting the character write-ups as they appear
in the game
. If they do not reflect the version of a given character that you expect, or the version that you prefer, I apologize. But these are the characters as
I
would have made them. If that means that if I think it works better that Bane didnt go to Pena Duro until he was an adult, so be it! I think his DC character backgound is one of the stupidest and most ridiculous things Ive ever heard! So I refuse to use it. If that means that Barbara Gordon is Batgirl, and there is no Oracle, there you go. Its
MY
game! Nya nya, nya nya nya!
*Ahem*
Sorry about that.
The campaign currently has two seperate PC groups; the Gotham Knights, and the Justice League. My intent is to run the Gotham game as the primary, and to occasionally feature Justice League stories, as they occur to me
I have -also- post the campaign's basic starting timeline, as well as additional rules we have developed, and character backgrounds. Ive also got stats and general writeups for the GCPD, US Soldiers, and a host of Supporting Cast that I will eventually include.
Game Rules:
Our campaigns run with a few House Rules. I shall -try- to translate the characters into standard M&M...but I may miss a thing or two, here and there. There are also a few House Rules I plan to share here, because I have AWESOME friends, and theyve come up with a few things that are gaming GOLD!
Also...I am notoriously bad at math. So my numbers -may- be wonky. Did that influence my decision to free my Players from point caps?
.....Perhaps!
Anyway, I hope that these write-ups will be useful, enlightening, entertaining, and/or fun to read. Ive -really- enjoyed the character threads from others here at the Atomic Think Tank, and I hope to give something back