By the sword and spell
goes down the sidekick route.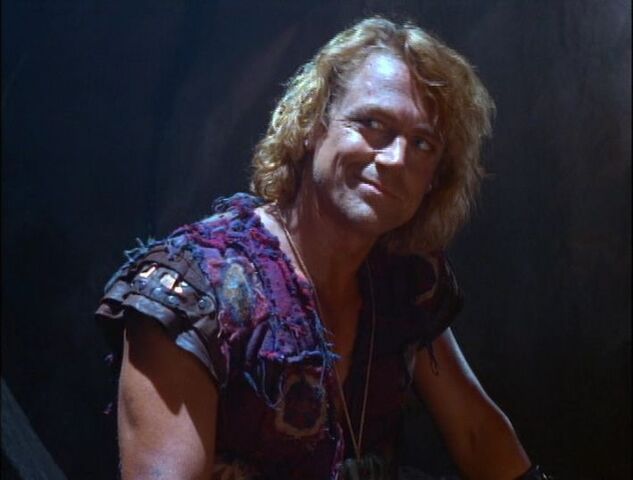 Well, that's it. We go down in history as the guys that ticked off ALL the gods.
Iolaus of Thebes
Power Level:
8 (120pp)
Abilities:
STR: 16 (+3), DEX: 18 (+4), CON: 16 (+3), INT: 14 (+2), WIS: 14 (+2), CHA: 14 (+2)
Skills:
Acrobatics 5 (+9), Bluff 4 (+6), Climb 3 (+6), Diplomacy 5 (+7), Disable Device 3 (+5), Escape Artist 4 (+8), Gather Information 3 (+5), Handle Animal 3 (+5), Knowledge (current events) 4 (+6), Knowledge (streetwise) 3 (+5), Language 1 (Sumerian; native: Ancient Greek), Notice 5 (+7), Perform (dance) 3 (+5), Ride 2 (+6), Search 2 (+4), Sense Motive 4 (+6), Sleight of Hand 4 (+8), Stealth 4 (+8), Survival 7 (+9), Swim 3 (+6)
Feats:
Acrobatic Bluff, Attack Focus 2 (melee), Damaging Escape, Defensive Attack, Defensive Roll 3, Dodge Focus 5, Follow-Up Strike, Improved Block 1, Improved Critical 1 (unarmed), Improved Disarm 1, Improved Feint, Improved Initiative, Improved Trip, Improvised Weapons 2, Instant Up, Lionheart 1, Power Attack, Set-Up, Sneak Attack 2, Sweeping Strike, Teamwork 2, Track, Unbalancing Strike, Uncanny Dodge 1 (visual), Weapon Bind
Combat:
Attack +8 (+10 unarmed); Damage +3 (unarmed), or by weapon of choice; Defense +10 (+3 Flat-footed); Initiative +8
Saves:
Toughness +6 (+3 Flat-footed), Fortitude +5, Reflex +7, Will +6/+10 [Lionheart]
Abilities 32 + Skills 18 (72 ranks) + Feats 35 + Powers 0 + Combat 26 + Saves 9 + Drawbacks 0 = 120
Complications:
Am I dead yet: Iolaus died and was reborn several times.
Mistake Identity: Iolaus is a perfect lookalike of his second cousin king Orestes of Attica, this has caused trouble on occasion.
Reputation (sidekick): while Iolaus is an incredibly resourceful and skilled guy (enough to survive adventuring with a super-strong demigod), he tend to pale compared to his best friend.
Rivalry (Xena): opposite to Hercules, Iolaus never forgave Xena completly for manipulating him.
Iolaus is one of those character from "The Legendary Journey" that has a weird feeling for me. on one hand I'm amazed that - given the level of mythology-rape of this show - someone actually remebered that Herc had a sidekick in the mythos, on the otheer is a constant reminder of how much this show chewed on its source material. Given that I love the character.
while it's quite easy to discount him as a sidekick I want all of you to stop and consider: this guy is tough and cunning enough to survive adventuring with a super-strong demigod, to fend off armed men with stools and fishes. While he might not be the biggest fish in the pond he's not a opponent to underestimate.
overall Iolaus looks and feel very similar to Nightwing, not that surprising consider his hyperkinetic fighting style. Usually he fight barehanded, but he can boost his damage using pretty much anything. In case of emergency he can ignore his Sneak Attack feat and use a sword or an axe to reach his damage cap.