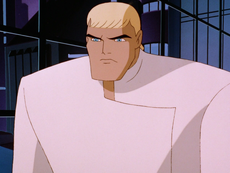 Montressor - Bahrain Rashoud Lab Guard (later Warden)
PL: 11
Abilities:
Str: 3/12**, Sta: 4/12*, Agl: 4, Dex: 3, Fgt: 3, Int: 3, Awe: 1, Pre: 4
Powers:
Absorption: Energy Absorption 9 (Strength) (9),
Adaptability: Immunity 10 (Lifesupport) (10),
Disrupt: Nullify (Quantum Powers) 5 (Extras: Concentration) (10),
Enhanced Quickness: Quickness 4 (Flaw: Limited to Physical tasks) (4),
Mega Stamina: Enhanced Stamina 8 (16),
Quantum Leech: Weaken (Quantum powers) 5 (Extras: Concentration) (10),
Regenerates: Regeneration 3 (3)
Advantages:
Benefit 1 (Member of Project Proteus), Close Attack 4, Connected,
Defensive Attack, Eidetic Memory, Great Endurance, Improved Defense, Improved Initiative 2,
Minions 5 (Proteus Thugs - Use Soldier Archetype), Power Attack, Ranged Attack 3, Takedown
Equipment:
None.
Skills:
Athletics 7 (+10), Expertise: Guard 6 (+9), Expertise: Proteus Protocols 4 (+7),
Intimidation 2 (+6), Perception 2 (+4), Stealth 6 (+10), Technology 4 (+7)
Offense:
Initiative: +12, Unarmed: +7 (Damage 3), Absorbed Strength: +7 (Damage 12)**,
Disrupt: +6 (Nullify 5), Quantum Leech: + 6 (Weaken 5)
Defense:
Dodge: 7, Parry: 9, Fortitude: 4/12*, Toughness: 4/12*, Will: 7
* With Enhanced Abilities
** With Energy Absorption
Abilities: 50, Powers: 62, Advantages: 22, Skills: 16, Defense: 15 = Total: 165
Complications:
Guilt Ridden: Feels guilty for imprisoning children at Bahrain.
Responsibility: Is responsible for the protection of the Bahrain Rashoud Lab.
Notes:
Arthur Larian was once a lowly guard at Bahrain prison. Then a Nova prisoner escaped which caused him to become a Nova himself. His powerful abilities to take away other Nova's powers had him appointed as warden over Bahrain. He officially oversees the prison for project Utopia but is secretly working for project proteus.
Montressor has become disturbed that Nova children are now imprisoned within the walls. Though he is still unaware of the horrific experiments being performed on the children. He does know of the experiments on adult prisoners however. For now he personally treats the children as guests and believes they are in Bahrain for their own protection from other so called dangerous factions.
Montressor is a sort of Quantum sink. He absorbs the quantum energy surrounding him. He can turn that absorbed energy to make himself into a powerhouse for a limited time. Normally he is a defensive support player backing up other prison guards or human soldiers. Montressor's stats are also a stand in for other Nova guards within Bahrain that maintain a Quantum barrier to prevent quantum use.
By the way the name "Montressor" ironically appears in Trinity as the name for a famous Hospital allied with Aeon. I always felt the use of Montressor's name in Aberrant was a insulting jab against Trinity players. Much like the use of the name Proteus itself was a mockery of Aeon players. Why anyone would use those names ever again if they were connected to such immoral activities is beyond me.