Tauri Devices
Notes:
Stargate command has access to any conventional human equipment. The Tauri are a moderately advanced people by the standards of Stargate. Humans can be quite creative when they have to be. The following devices are attempts at viable countermeasures of their adversaries advanced technology or powers. All were invented by the SGC after intense studies of enemy biology or tech.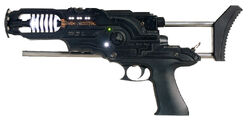 Anti-Replicator Gun: Ranged Weaken Toughness 10 (Extras: Affects Only Objects, Flaws: Asurans only)(6), Easily Removable -4,
Notes:
The Anti-Replicator Gun was based on Ancient schematics. It is the only weapon capable of destroying a Asuran other than heavy firepower. It is a energy weapon that disrupts the subspace link between nanites holding the Asuran together. The affected Asuran then turns into a pile of dust. Unfortunately, the Asuran collective can develop a immunity through repeated exposure to the weapon.
Asurans can use their shapeshifting to gain Immunity 5 (Anti-replicator gun damage, Flaw: Limited to Half-Effect)(5). Overuse might even lead to full immunity! The only way to get around this is by changing the energy frequency of the gun (Requires a full action). This will force the Asurans to start all over and adapt to the new energy frequency. The GM should decide how many Asurans can be killed until they can develop a immunity.
It's certainly possible that a ARG can be adapted to affect other targets. The ARG could be used against organic targets by breaking down the links that hold organic cells together. This weapon is nearly identical to the Kull Disruptor except that gun only affects Kull Stamina.
Prior Disruptor: Nullify (Psychic Powers) 12 (Extras: Area, Concentration)(20) Easily Removable -16
Notes:
The Prior Disruptor was designed from the study of a Near Ascended being. That being was created from the experiments of the Goa'uld sysytem Lord Anubis. The Prior disruptor uses sound waves to disrupt the use of psychic powers within a small area. It blocks the area of the brain that allows for concentration needed for psychic powers. It was used to great effect against the Priors who were given psychic powers by the evil Ascended Ori through genetic engineering and technological means.