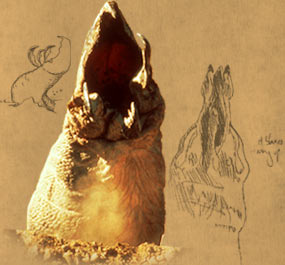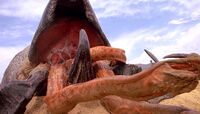 Graboid
PL: 8
Abilities:
Str: 10, Sta: 10, Agl: 0, Dex: 0, Fgt: 3, Int: -3, Awe: 2, Pre: -2
Powers:
Armored Beak: Strength based Damage 1 (Flat: penetrating 3)(4),
Closed Circulatory System: Immunity 1 (Suffocation)(1),
Digger: Burrowing 9(20 miles per hour, Flaws: Limited to soft earth such
as soil and sand)(9),
Gargantuan: Growth 10 (Flat: Innate, Flaws: Permanent)(21),
Serpent like Prehensile Tentacles: Elongation 1 linked to
Affliction 5 (Resisted by Dodge, Hindered and Vulnerable, Defenseless and Immobilized,
Extras: Cumulative, Extra Condition, Flaws: Limited Degree)(11),
Seismic Vibration Sense: Senses 4 (Accurate, Detect Tremors 2, Extended 1)(4)
Advantages:
None
Skills:
Athletics 6 (+16), Close Combat: Unarmed 2 (+5), Intimidation 0 (+4)*,
Stealth 0 (-8)*
Offense:
Initiative: 0, Unarmed: +5 (Damage 11)
Defense:
Dodge: -3*, Parry: -1*, Fortitude: 10, Toughness: 10, Will: 5
Abilities: 0, Powers: 50, Advantages: 0, Skills: 4, Defense: 6 = Total: 60
Complications:
Disability: Blind since it has no eyes.
*Growth modifiers included
Notes:
A graboid is a prehistoric creature from the Tremors movies and TV series.
They have been dormant underground for millions of years. They have now begun to surface
in desert areas such as Perfection, Nevada. They have also appeared in the rest of the
Americas such as Mexico and south America. It is possible that they may show up in other
deserts such as Australia.
Graboids are based on the cryptid mongolian death worm. It is a subterranean animal that
mostly lives underground. It can burrow through dirt as easily as fish swims in water.
It is blind and has no other senses except for its Tremors sense and touch. A graboid can
only detect movement and loud sounds.
A graboid has three tentacle like snake heads in its mouth. They are used to ensnare and
find prey by touch. A graboid cannot burrow through hard rock and concrete. Graboids are
highly aware creatures that can learn from their environment. The same trick might not
work on the same Graboid!
When it has eaten enough it dies giving birth to the smaller but deadlier shriekers!