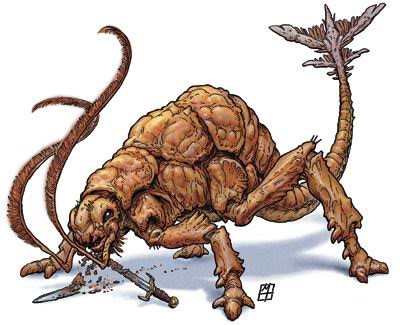 STR 0, STA 2, AGL 3, DEX 0, FGT 3, INT -4, AWE 2, PRE -1
Powers:
Darkvision: Senses 2 (Darkvision) • 2 points
Natural Armor: Protection 3 • 3 points
Rust: Transform 7 (any metal into rust) • 21 points
Scent: Senses 6 (Acute Smell, Tracking; Ranged Detect Metal, Extended, Tracking) • 6 points
Advantages:
Second Chance (Surprise)
Skills:
Perception 2 (+4)
Offenses:
Initiative +3
Rust +3, Close, Transform 7
Unarmed +3, Close, Damage 0
Defenses:
Dodge 3, Parry 5, Will 4, Fortitude 2, Toughness 5
Power Points:
Abilities 10 + Powers 32 + Advantages 1 + Skills 1 + Defenses 4 = 48
Descriptors:
Aberration
The hide of these creatures varies in color from a yellowish tan underside to a rust-red upper back. A rust monster's prehensile antennae can rust metals on contact.
A rust monster can scent a metal object from up to 90 feet away. When it detects one, it dashes toward the source and attempts to strike it with its antennae. The creature is relentless, chasing characters over long distances if they still possess intact metal objects but usually ceasing its attacks to devour a freshly rusted meal.
The creature targets the largest metal object available, striking first at armor, then at shields and smaller items. It prefers ferrous metals (steel or iron) over precious metals (such as gold or silver) but will devour the latter if given the opportunity.