The Alchemist
PL 13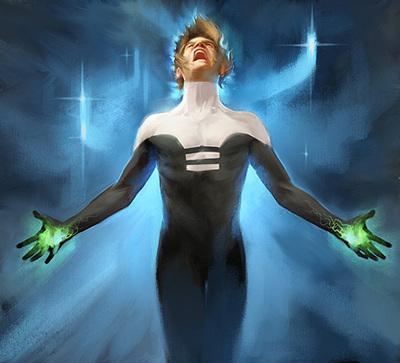 STR 2 - STA 4 - AGL 2 - DEX 2
FGT 2 - INT 4 - AWE 5 - PRE 1
POWERS
Transmutation: Perception Range Transform 13 (Anything to Anything), Continuous, Limited: inorganic only • 91 points
AE - From the thin air: Perception Range Create 13 (anything soilid under normal conditions (not energy, hard air,...), Continuous, Impervious, Innate, Movable, Precise, Subtle 1, Variable descriptor 2 • 1 point
Reflexive Hardening: Protection 10, sustained • 10 points
Closed System: Life Support 10 • 10 points
ADVANTAGES
Eidetic Memory
SKILLS
Close Combat: Unarmed 2 (+4), Expertise: Chemistry 8 (+12), Expertise: Science 6 (+10), Insight 6 (+11), Perception 6 (+11)
OFFENSE
Initiative +2
Transmutation Perception, Transform 13
From the thin air Perception, Create 13
Unarmed +4 Close, Damage 2
DEFENSE
Dodge 12 Fortitude 12
Parry 12 Toughness 14
Will 14
POWER POINTS
Abilities 44 Skills 14 Powers 112 Defenses 39 Advantages 1 Total 210
COMPLICATIONS
Doing Good: The core tenet of his philosophy is helping others, regardless of self.
Honor: Out of his concern for others, he uses his potentially lethal powers judiciously, even when such restraint puts him at a disadvantage.
Sorjan Zur was sent back through time from an utopian future to hinder a time-traveling evil force to destroy his presence from the past. As a brilliant scientist, he should only provide scientific help, but the radiation in the chamber somehow changed him, giving him greater understanding of the atomic structures in himself and around him.
This manifests usually as manipulating outside matter only. While he has the potential to shape himself. he subconsciously only uses his powers to keep his body as it is, ignoring many damaging outward conditions.
After taking a more active roll to preserve the future he knows than first expected, he also realized that the residual radiation interacted with the form of time travel he used, leaving him stranded in the past.
He know fights for the betterment of all, adhering still to the ethics of his own life. As a time traveler, he also knows that he may not introduce to many new technologies to the masses, to not destabilize the time stream.