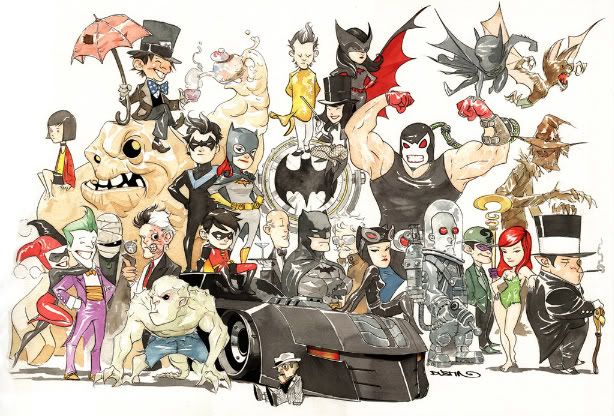 Batgirl III's Third Edition Character Thread
Index Last Updated:
December 3, 2012 - ___ Builds
Welcome to my humble Think Tank Character Thread for the new edition. I hope to pick up where I left of from my
Second Edition Thread
, where I have many builds for the JLA, a general guide to Gotham City, a repository for stuff from my home-brew campaign, random builds, GMing tips, and whatever else I feel like posting. With time, many of my old favorites will be brought over as well as any new stuff as the mood strikes.
Sit back, pour yourself some coffee, and watch out for the bats.
Critiques and comments always welcome, and so are good old fashioned nitpicks.
Batgirl III's Bat-Rants
Batgirl's Guide to Capes
Batgirl's Guide to Gadgets
Original Character Builds
Ambush
Anonymous
Aries
Black Eve
Boxer
Brigid
Blue Jay, The
Critical
Doctor Marvel
Honor Keel (Starting)
Honor Keel (Advanced)
Horseman, The
Infinity
Katherine Murray
Liberatrix
Master Cat
Redcap
Risk
Rose Red
Shimmer
Sorte
Spriggan
Sublime
Volunteer, The
Warhawk
Batman, Inc. (Originals)
Bakjwi
(Seoul, S. Korea)
Boomerang
(Perth, Australia)
Dark Rider, The
(Detroit, USA)
Doctor Fox
(Toronto, Canada)
Graue Geist
(Berlin, Germany)
DC Comics
Bouncing Boy
Laurel Kent
Matter-Eater Lad
Mogo
Night Girl
Reign of the Supermen
Cyborg Superman
Eradicator
Steel
Superboy
Marvel Comics
Beast
Crossbones
Deadpool
Doctor Octopus
Electro
Gambit
Iceman
Juggernaut, The
Mr. Immortal
Namor
Rogue
Sabertooth
Shadowcat
Spider-Man
Vulture, The
Wolverine
Television & Film Builds
Buffy the Vampire Slayer
Buffy the Vampire Slayer
Faith the Vampire Slayer
Angel/Angelus
Vampire Minion
Doctor Who
Autons
Bane, The
Captain Jack Harkness
Cybermen
Dalek
The Doctor
Sarah Jane Smith
Silents, The
Sontarans
Vashta Nerada
Gozilla & Other Daikaijū
Anguirus
Ebirah
Gigan
Godzilla
King Ghidorah
Kumonga
Mechagodzilla
Mothra
Rodan
Zilla
Marvel Cinematic Universe
Agent Coulson
Agent Hill
Black Widow
Captain America
Hawkeye
Hulk, The
Iron Man
Loki
Nick Fury
Thor
War Machine
Whiplash
Pretty Soldier Sailor Moon
Sailor Jupiter
Sailor Mars
Sailor Mercury
Sailor Moon
Sailor Venus
Other Media
Frankenstein
Dr. Frank-N-Furter
Freddie Mercury
Graboids
Hostess Fruit Pies
Mad Cat
Moby Dick
Picard, Jean-Luc
Personal Campaign Background
Timeline & History
Superhero Teams Overview
Team: The Authority
Team: The Champions
Team: The Defenders
Team: The Fantastic Four
Team: The X-Men
Earth-IV Superheroes
Alfred Pennyworth
Angel
Apollo
Aurora
Batgirl
The Batman
Beast
Black Panther
Black Widow
Captain America
Captain Lionheart
Captain Marvel
Cyclops
Flash, The
Frost, Emma
Fury, Nick
Grace
Green Arrow
Green Lantern
Hawkeye
Hulk, the
Human Torch
Iceman
Iron Man
Invisible Girl
Midnighter
Mister Fantastic
Nightwing
Northstar
Phoenix
Robin
Sentinel
Shadowcat
Spider-Man
Stature
Supergirl
Superman
Wolverine
Wonder Woman
Earth-IV Supervillains
Aquaman
Joker, The