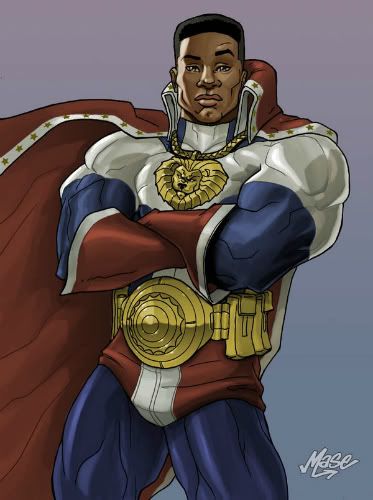 CAPTAIN LIONHEART
An Earth-IV Redesign
Power Level 13 ( 195 PP)
Captain Lionheart wrote:General Zod: I am Zod. What manner of fool are you, who will not kneel before Zod?
Lionheart: I am Brian Augustus Braddock, Twelfth Duke of Rutland, Baron de Ros, Marquess of Granby.
I am Captain Lionheart, chosen Protector of this Realm and the most powerful superhuman in Europe.
I am the Champion of the Forces of Reason. And I... I am going to thump you `til I get bored.
ABILITIES
Strength
8(10 Lift: 24)
Stamina
8
Agility
8
Dexterity
3
Fighting
8
Intellect
4
Awareness
3
Presence
8
POWERS
►
Amulet of Right
(Device, Array; 50 PP Base) (
E:
Indestructible, Restricted;
F:
Removable -1 per 5) [ 40 PP Total ]
○
Superhuman Strength Enhanced Strength 16
(400 ktons;
F:
Limited to Lifting [14 Ranks]) [ 18 PP ]
○
DAE:
Superhuman Speed Quickness 6
;
Improved Initiative 6
;
Speed 6
(120 MPH) [ 2 PP ]
•
Immunity 11
(Fatigue, Life Support;
F:
Quirk [Subject to Starvation/Thirst]) [ 10 PP ]
•
Protection 6
(
E:
Impervious [10];
F:
Sustained) [ 16 PP ]
•
Superhuman Senses Feature 2
(Temporal Inertia, Quick Change;
F:
Limited to Britain);
Senses 1
(
Mental:
Direction Sense) [ 2 PP ]
►
Star Scepter
(Device, Array; 12 PP Base) (
E:
Indestructible, Restricted;
F:
Removable -1 per 5) [ 10 PP Total ]
•
Scepter Strike Damage 4
(Strength-Based;
E:
Accurate [1], Affects Insubstantial [2], Feature [Katanaspace]) [ 8 PP ]
○
DAE of Superhuman Strength:
Supersonic Flight Flight 9
(1,000 MPH) [ 2 PP ]
ADVANTAGES
Accurate Attack, Assessment, Benefit [Fame, House of Lords, Wealth (4)] (6), Close Attack (2), Contacts, Connected, Extraordinary Effort,
Improved Initiative (6)
, Inspire (2), Interpose, Languages [Welsh, Scottish Gaelic, Lowland Scots, Cornish, Irish, British Sign Language, German, French
Base:
English] (4), Leadership, Luck (2), Power Attack, Well-Informed
SKILLS
Close Combat [Unarmed] 6 (+16), Expertise [Business] 2 (+6). Expertise [History] 6 (+10), Expertise [Politics] 10 (+14), Insight 7 (+10), Intimidate 2 (+10), Investigation 6 (+10), Perception 7 (+10), Persuasion 7 (+15), Technology 1 (+5)
DEFENSE
Dodge
(12)
Base 4
Parry:
(12)
Base 4
Fortitude:
(12)
Base 4
Toughness:
(14/8)
Base -
Will:
(14)
Base 11
COMPLICATIONS
Prejudice:
Captain Lionheart is the son of a British peer and an African-American jazz singer, even in this day and age many Britons hold will his mother's background against him.
Power Loss:
Captain Lionheart loses his powers and his STR, STA, AGI, and DEX are reduced to 3 if he should "see more than one sunrise" (approximately 12-hours) while away from British soil; the Amulet of Right will extend this time limitation to roughly one full day. Without the Amulet of Right he loses access to all the powers contained therein and the Star Scepter cannot be used (although he will retain his physical abilities while he remains in Britain). Without the Star Sceptre, he loses access to its abilities, but suffers no other consequences.
Reputation:
Captain Lionheart has a (well-deserved) reputation for being a bit of a jingoist. The Duke of Rutland is also a politically active Tory, which does not endear him to liberals and social democrats.
Responsibility:
Although he puts the realm and its people first, Captain Lionheart feels a strong sense of responsibility to use his powers for the benefit of all mankind.
WORKSHEET

Attack: 16 Effect: 10 Total: 26 (Unarmed)
Attack: 12 Effect: 14 Total: 26 (Unarmed)
Dodge: 12 Tough.: 14 Total: 26
Parry: 12 Tough.: 14 Total: 26
Fort.: 12 Will: 14 Total: 26
ABILITIES
[ 100 pp ] +
SKILLS
[ 27 pp ] +
ADVANTAGES
[ 25 pp ] +
POWERS
[ 50 pp ] +
DEFENSES
[ 23 pp ] =
225 PP TOTAL
BACKGROUND
Real Name:
Brian Augustus Braddock, 12th Duke of Rutland
Alias:
Captain Britain (Earth-4)
Occupation:
Adventurer (Politician and British Peer)
Base of Operations:
Belvoir Castle, Leicestershire; United Kingdom
Date of Birth:
November 5, 1976 (Age 36)
Height:
7'1"
Weight:
325 lbs.
Eyes:
Brown
Hair:
Black
Notable Relatives:
Elizabeth Braddock (sister); Eliza Sweeney-Braddock (mother); Augustus Braddock (father, deceased)
Race:
Human
Identity:
Public
Status:
Lord Temporal of the United Kingdom's House of Lords. No criminal record.
Brian Augustus Braddock, 12th Duke of Rutland, is a British peer and landowner. He was born the elder son of the 11th Duke of Rutland by his second wife, the American ex-patriot Eliza Sweeney. He succeeded his father in the titles on January 2, 1999. The Duke was ranked 475th in the Sunday Times Rich List 2009, with an estimated personal fortune of £110m. The Duke is a high profile supporter of the Conservative and Unionist Party and has hosted fund raising events at his ancestral home, Belvoir Castle. In 1999, he stood as non-affiliated when the House of Lords had to elect 92 hereditary peers, but is generally counted amongst the Tories.
His Grace The Duke of Rutland also carries the subsidiary titles of Marquess of Granby, which was created in 1703 at the same time as the dukedom was formed out of the earlier title of Earl of Rutland (1525). Baron Manners, of Haddon in the County of Derby was created in 1679. These titles are all found in the Peerage of England. Baron Roos of Belvoir, of Belvoir in the County of Leicester was established in 1896 in the Peerage of the United Kingdom, but seem to have a longer ancestry in the titles of Baron de Ros which has briefly passed again to the family. The most senior subsidiary title, Marquess of Granby, is the courtesy title that would used by the Duke's eldest son and heir, although he is presently childless.
In 1998, Braddock was a post-graduate student of political science at England's University of Oxford. One night, while working under his mentor Dr. Travis at the Bodleian Law Library, during the holidays, he was present when the mutant terrorists of the
Brotherhood
raided the university seeking to kidnap scientists from a nearby research lab. Escaping with the intention to get help, Brian fled on a motorbike, but was run off the road. Bleeding to death, Brian was approached by Merlin and his daughter Roma, who told him that he could live if he became Britain's next great champion. They offered Brian a choice: The Amulet of Right (or Life) or the Sword of Might (or Death). Being a scholar and not conceiving of himself as a warrior, Brian chose the Amulet and became
Captain Lionheart
.
The United Nations Security Council will not let him join the Justice League International without giving up his seat in the House of Lords, which Braddock refuses to do and he has little desire to serve in the group anyway. However, he has accepted Superman's offer of "reserve" status and will assist the JLI in the event of a serious crisis, such as the invasion of
General Zod
in 2013.
Every world in the multiverse has a Captain Britain, and Earth-IV is no exception. Unlike the Captain Britain of Earth-616, Captain Lionheart has had a far less convoluted history: he wasn't King of the Otherworld, he wasn't part of Excalibur or the Avengers, he never became involved with the Jaspers. On the other hand, he's a lot less powerful than the Captain Britain of Earth-616, still needing his Amulet of Right to unlock most of his power and requiring the Star Scepter to fly.