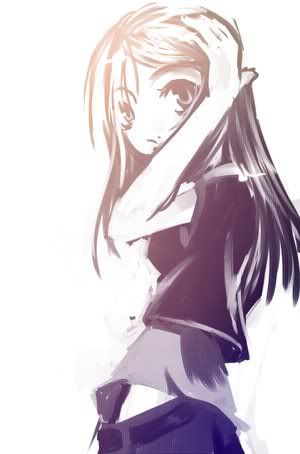 Abstract Self Portrait
Terra Strong
Alias'
: Subject #01, "Gia" , "Terra", "The Apprentice", "Mother Earth" (The final admission being added against STRONG protest of Ms. Strong)
Realitives:
Amilia and Quintin Strong: Deceased.
Known Aquantences:
The Original Teen Titans (Robin, Starfire, Beast-Boy, Cyborg, and Raven), Slade.
Eyes
: Blue
Hair
: Blond
Age:
19
Gender:
Female
Ht.
5"7
Wt.
165
Build:
Lithe
Blood-Type
: AB+
Cadmus File: Project Gia
-The following information is classified as a matter of national security and restricted for President's Eyes Only-
Project Gia : Primary Directive - The Study and Containment of Geo-Kinesis, a form of extremely rare and dangerous mental ability that focuses on the manipulation of 'Earth and Stone'. Believed to be an Omega-Class threat, a powerful enough Geo-Kinetisis could (In theory) level entire cities and even countries in a matter of moments, with methods as raw and powerful as any grandious Natural Disaster.
Secondary Directive - The Medical Treatment, Training, and Warden-ship of Subject #01.
History of Project Gia and Subject #01-
Project Gia was initiated Six years ago under the previous administration as part of CADMUS' failed 'Meta-Recruitment Program' and was centered around the discovery of Geo-Kinetic Subject #01, also known as "Terra Strong".
First Contact was deemed a disaster as soldiers attempted to corral Subject #01 (her reaction Causing the Channel County Landslide, with a total casualty toll of 17 and est. $42 million in property damage)
Some months later, Subject #01 is believed to have encountered the Teen Titans and the Criminal 'Slade'. Details of these relationships are not fully understood, but resulted in the 200- 'Bay Incursion', the city falling under a state of Dictatorship and Martial Law while the Justice League (at this time consisting only of the original 7) was offworld. There is no question that Terra was the key to this short lived success, defeating the City's Adolesent protectors as well as repelling two seperate assaults by the US Armed Forces. This incursion was quickly put down by the Teen Titans and following the incident, the Instigtors were declared missing.
In a final investigation, CADMUS Agents discovered the underground memorial to Terra deticated by the Titans who had apparently assumed her dead. Several analysis however indicated that her petrified body still harbored living cells, although turned to a stone-like consistancy and set into a state of suspended animation.

Alicia Rainberson (Left) and Terra Strong (Right) - Likeness was uncanny enough to fool even the Teen Titan's Beast-Boy, who was apparently the closest to her.
In order to close the matter, a look-alike was placed in public view as a decoy (convincing the Titans that the Terra they were familiar with was gone) while Subject #01 herself was brought to CADMUS for further study.
After Six Months, Researchers discovered particular ultra-sonic wave frequencies that were used to release the now healed Terra from her frozen state and she was put into CADMUS Custody by presidential order for further study as was Project Gia's original goal.
However, Legitamit Research in duplicating her powers was shut down following the signing of the United Nations Meta-Ban Treaty. The U.N. Legislation, which was endorsed heavily by Super-Man and other members of his Justice League to reduce the experimentation creating many dangerous and unstable meta-human criminals and monsters, tied the Government's hands in many respects, requiring shutting down many 'brain-banks' invested in reverse enginnering Super-Human abilities.
At this point, Project Gia was repurposed for rehabilitation, treatment, and training of Subject #01 in hopes of being able to utilize her talents for a more productive purpose.
Treatment: Realizing that merely incarcerating the minor (only 14 at the time she was taken into custody) would be an incredible waste of resources (likely requiring an ariel or orbital prison platform given her powers) and of Terra's remarkable talents, Terra was placed her under a strict parole and required to admit herself to Therapy, which has worked remarkably well. Although original plans for an indoctrination program was considered, Terra's Personality Profile, highly volitile power-set, and mental unpredictablity made such plans unrealistic.
More subtle forms of psychological culturing have had the desired effects of instilling loyalty and a sense of commitment, although Subject #01 remains far from a reliable tool.
Along with more subtle psychology techniques, Protocal 341 has also been initiated in order to maintain her continued cooperation.
Profile of Subject #01:
Mentally and physically average for a young woman of her age, Terra does not appear to be a threat at first glance. If anything, an above average natural beauty might make her considered more the part of the damsle in distress.
However, past events have deeply scarred this young woman, making her a reluctant patient at the best of times. While we still do not have many details about her encounters with the assassin mastermind known as Slade, it is thought that she endured a much more brutal mental indoctranation under him that our psychologist have been working to break.
Terra hides her internal insecurities behind an outgoing and vibrant mask, beautiful grins that hide years of tears. While she knows she weild's great power, she has also first hand seen what that power can do to people when abused, an experience that apparenty 'woke her up' to the reality of what she had been doing.
However, her recovered 'outgoing' demeanor and vital flaire only begin to hint at what she is truely capable of. If pushed, it is thought that Subject #01 could be an A-List meta-human (among the likes of Super-Man and Green Lantern) . Unfortunately, due to either a lack of confidence or fear of reprecussions, it it obvious to many that Terra 'holds back' from her true potential. While this may frustrate some wishing to exploit her abilities both for national security and for profit, many scientist involved in Project Gia are grateful for this fact.
Reccomendation:
Subject #01 is willful and unpredictable in spite of the aid we offered her once she was found. While she does have much finer control of her powers now than she did 5 years ago, Tera remains an unreliable tool given to impulsive decisions and reckless behavior. Because of this, in spite of her Power Aptitude, we have recommended against 'cohersing' Ms. Strong into the Shining Stars of America Initative.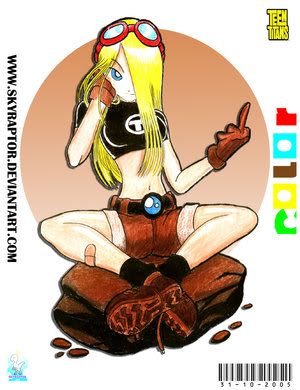 Tarra Strong - Today.
Terra Strong "Gia"

Power Level: 8; Power Points Spent: 120/120

STR: +0

(10),

DEX: +1

(12),

CON: +0

(10),

INT: +0

(10),

WIS: +1

(12),

CHA: +2

(14)

Tough: +8, Fort: +6, Ref: +5, Will: +2

Skills:

Acrobatics 6 (

+7

), Bluff 5 (

+7

), Climb 3 (

+3

), Concentration 3 (

+4

), Diplomacy 4 (

+6

), Intimidate 8 (

+10

), Notice 4 (

+5

), Survival 8 (

+9

)

Feats:

Attack Focus (ranged) 2, Attractive, Combat Reaction (Raise Earth Barrier when Attacked at range), Diehard, Environmental Adaptation (Underground), Favored Opponent (Robots), Fearless, Improved Initiative, Improved Pin, Improved Ranged Disarm, Improved Trick, Instant Up, Ranged Pin, Redirect

Powers:

Feeling the Earth (Super-Senses 2)

(earth, tremorsense)

Rock Surfing (Flight 4)

(Speed: 100 mph, 880 ft./rnd; Platform; Moving Feint; Wide Turns)

Stone Gloves (Strike 8)

(earth, DC 23; Knockback)

Stone Sleep (Linked)

. .

Petrification (Suspended Animation)

. .

Stone Sleep (Regeneration 11)

(Linked; earth, recovery rate (bruised) 3 (recover 1 / round without rest), recovery rate (disabled) 4 (recover 1 / 5 mins), recovery rate (injured) 4 (recover 1 / round), DC 21)

Terra's Gift (Earth Control 13)

(earth, Strength: 65, Carry: 34 tons / 68.2 tons / 102.4 tons / 204.8 tons; Precise)

. .

Earth Barrier (Shield 10)

(Alternate; earth, +10 dodge bonus)

. .

Earthly Bonds (Snare 8)

(Alternate; earth, DC 18)

. .

Forms of Earth (Transmutation 9)

(Alternate; earth, Transforms: 500 lbs.; Limited 2 (Earth to Earthen); Reduced Range 2 (2 increments))

. .

Stoney Shrapnel (Blast 8)

(Alternate; earth, DC 23)

. .

Temblor (Trip 8)

(Alternate; earth; Improved Throw)

. .

Tunneling (Burrowing 6)

(Alternate; Speed: 50 mph, 440 ft./rnd)

Tough Chick (Protection 8)

(earth, +8 Toughness; Impervious; Limited - Broad Type (Physical))

Equipment:

Dust Goggles, Terra-Outfit.

Attack Bonus: +6

(Ranged: +8, Melee: +6, Grapple: +6)

Attacks:

Earthly Bonds (Snare 8), +8 (DC Ref/Staged 18), Stone Gloves (Strike 8), +6 (DC 23), Stoney Shrapnel (Blast 8), +8 (DC 23), Temblor (Trip 8), +8 (DC 18), Unarmed Attack, +6 (DC 15)

Defense: +10/+8

(Flat-footed: -1), Knockback: -8

Initiative: +5

Drawbacks:

Holding Back, uncommon, major, Power Loss (All Powers), uncommon, minor, no earth, Weakness, uncommon, major, Medication

Languages:

English

Totals:

Abilities 8 + Skills 11 (41 ranks) + Feats 15 + Powers 70 + Combat 12 + Saves 11 - Drawbacks 7 = 120

Complications:

Infamous: Five years ago, Terra was briefly a Teen Titan in San Fransico , and then betrayed the Titans and took over the city at the behest of the Super-Villian Slade, causing massive damage to Civilian Populus, beating back National Guard single handedly with massive casualties. Although she disappeared, she is still well known for this event, particularly on the West Coast. Few know about her fate afterwards or her sacrifice under San Francisco.

Troubled Past: Even before being Slade's Apprentice, Terra's powers caused a great deal of strife. Land-slides, Earth Quakes, and Devastating disasters following in her wake due to an inability to control her powers. Although she has managed to get a grip as she has gotten older, the scars still presist both on the Country and Terra's Conscience.

Government Leash: Terra feels she owes Cadmus her life for bringing her out of her petrafied state and sheltering her both from retribution and taking her away from San Fransico so she didn't have to face the Titans. The cost, however, is beginning to take it's toll as she realizes CADMUS and President Luthor are calling in her debt. As she's getting older, she's finding herself straining more and more at the leash imposed by her 'saviors'.

Reluctant Hero: Terra does not want to be in the spotlight and the idea of gaining media attention terrifies her. While she has been promised redemption for her participation in the SSA, he is skeptical, wondering indeed if her past sins can ever be forgiven.

Drawbacks:

Earth Bound: (Power Loss -1. Super-Rare. No 'Earth' to manipulate. Example : In a plane, in a super-tall skyscraper, In outer space, In the middle of the ocean) While Subject #01's power works well on stones of all kind, dirt, sand, and even liquid magma, for some reason, she cannot directly control metal materials. Weather this is due to a psychological handicapp or some other reason is really unknown

Holding Back: (Holding back -3 (Uncommon, major.) Terra has far more power than she uses under normal conditions. This is because on the few occassions she HAS used it she has 'ALWAYS' paid a price. Weather it's being turned into a statue or worse, she is always afraid what happens when she 'loses control. She may be tempted to unleash her full power in time, but these events are rare.

Addiction: (Weakness -3 (Uncommon, Major). Although she doesn't truely realize it, Terra is highly addicted to a drug without side effects known as 'Oxicormanthil'. This drug does not cause anybody to get high or stoned. Instead it was developed to test withdrawl methods and rates of deterioration with a 'rebound' that makes heroine withdrawl seem humane. The Regiment requires at least a dose every 24 hours or so to ward off the highly intensified 'withdrawl' symptoms. Once withdraw sets in, Subject will begin experiencing extreme muscle pain, followed by exhaustion, fever, extreme thirst, and may suffer delusional episodes or hallucenations.

As the drug is oft used when the other person is unaware of it, Oxicormanthil is highly illegal
{ Minor Edit : With the GM'S permission. Juggled some skill points around and took a rank out of Rock Surfing and into Terra's Gift. ]