Friday, August 17th, 2001. 9:45 a.m.
You arrive at the mansion on Fulton Street in San Francisco. The home was documented in Tom Wolfe's "The Electric Kool-Aid Acid Test" as the location of one of the very first hippie communes in San Francisco in the 1960s. It is a Gothic style Victorian house that was built in 1889, and can be found at the northwest corner of Alamo Square Park. The house was originally built for William Westerfeld, a well-to-do confectioner in the 19th century. Today, it is the headquarters for the not-so-secret League of Extraordinary Persons.
As you enter, you are greeted by two familiar men:
The Amazing Randi
and
Sugar Ray Leonard
. They lead you through a ornate hall with large portraits hanging on the walls: Claude Lacombe, Hulk Hogan, Mary Lou Retton, Evel Knievel, Tangina Barrons, Edward Scissorhands, Tequila Yen, Egon Spengler, and Doctor Emmett Brown. Also included: The Amazing Randi and Sugar Ray Leonard. "The League has been in existence for decades, responding to global crises and other strange phenomena," Randi explains. "Out with the old, in with the new," Sugar Ray grins as he opens the large double-doors to the library.
Inside the library sits a red-headed woman dressed in a pantsuit next to a harried looking elderly gentleman.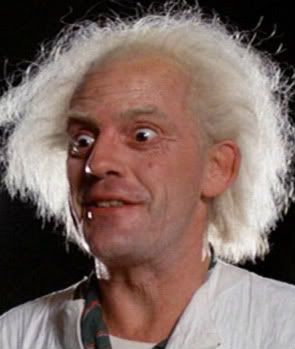 "Greetings, everyone," the woman stands. "For those who do not know me, my name is Special Agent Dana Scully of the FBI. I head the X-Files division and am also the current leader of the League of Extraordinary Persons program. Next to me is renowned scientist and inventor Doctor Emmett Brown. We'll get to him shortly. Your group contains an assortment of talented individuals summoned here for a mission of great importance. We have here Lady Lara Croft, finder of antiquities. Dr. Buckaroo Banzai, inventor, rock star, all around renaissance man. Ralph Hinckley, bona fide superhero. Connor MacLeod, skilled swordsman. And... and..." Scully looks quizzically at the portly bearded man beaming in an overcoat in the back of the room. "I'm sorry, I don't believe I know you. You are?" The man hands Scully a small card with the LXP logo embossed on the outside. She reads it and shakes her head. "
You're
Batman?" The portly man shakes his head and points at the card. She rereads it and notices the name Batman crossed out and another name written in. "Bluntman." The female agent looks at the room and finds the portly man once more, who simply smiles and shrugs. "Well, let's move on."
Scully waits for everyone to exchange pleasantries and sits down before continuing. "Over the past 30 days a convergence of events have given us reason to believe that something sinister is occurring. Something that is threatening the lives of of a small town about 200 miles south of here and could spread quickly if not stopped soon. Missing persons cases in the small town of San Luis Obispo have jumped 300% over the past month. Arson cases have also jumped dramatically. Strangely, the bulk of recent fires seem to be targeting gardens, nurseries, and flower shops. We do not know who is committing these crimes, but we theorize that they may be related to a disturbance Dr. Brown has discovered. Sir."
Doc Brown furrows his brows in thought then his wild eyes lock onto each member of the group. "In 1985 I traveled to the year 2015 in a time machine of my own invention. I have traveled back and forth through time on many occasions since, always careful not to disturb the space-time continuum. Of course, wrinkles have happened... *ahem* I married my wife in 1885 and we have two lovely boys. Until a short time ago we traveled freely through time, seeing the world's greatest moments of history up close and personal. My boys are young men now and are naturally curious about the future. I decided to show them the wonders of 2015. Only, the 2015 I remembered no longer existed. It was a horrible future. We barely escaped it alive! Something happened to change it. I have yet to trace the exact moment, but in my efforts to source the calamity, I built a temporal flux tracking system. All around the world, temporal disturbances abound. Could they be natural? Some of them, possibly. But there is a concentration of these temporal events near--yes, you've guessed it!--San Luis Obispo! Whatever is happening there I fear has far reaching consequences for the future. I'm not exaggerating when I say that the fate of the human race is at stake!"
Scully places a reassuring hand on Doc Brown's arm as she stands. "Time travel is real. The methods may be many. Missing people and fires are suddenly engulfing a small town surrounded by temporal disturbances. We can only assume the events are related. Your mission is to investigate these disturbances and find their cause. Discover the reason behind the missing persons cases and the arsons. See if there is a link. And most of all, determine what could possibly cause the apocalyptic future Doctor Brown has warned us about and do everything in your power to prevent it. I will remain here to coordinate resources. If you require transportation to San Luis Obispo it can be arranged. Questions?"