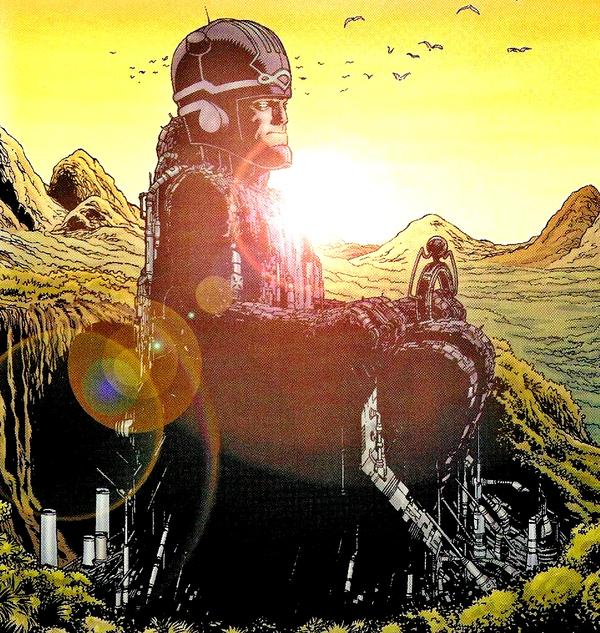 Master Mold
- PL 13 Walking Factory
Strength 17, Stamina -, Agility -1, Dexterity 1, Fighting 7, Intellect 6, Awareness 4, Presence -1
Advantages
Eidetic Memory, Favored Foe: Mutants,
Improved Grab
,
Improved Hold
, Inventor, Speed of Thought, Startle
Skills
Close Combat: Unarmed 2 (+9), Expertise: Mutant Hunter 2 (+8), Insight 2 (+6), Intimidation 4 (+11), Investigation 2 (+8), Perception 6 (+10), Ranged Combat: Mounted Weaponry 8 (+9), Technology 8 (+14)
Powers
Boot Jets: Flight 6
(Speed: 120 miles/hour, 1800 feet/round)
Brain Module: Immortality 1
(Return after 2 weeks; Limited: Requires Sufficient Metal)
Giant Robot
(Advantages: Improved Grab, Improved Hold)
. .
Armored Construction: Protection 3
(+3 Toughness; Impervious)
. .
Colossal Size: Growth 16
(+16 STR, +16 Tough, +8 Intimidate, -16 Stealth, -8 active defenses, +4 size categories, +2 speed ran; Innate; Permanent)
. .
Mechanical Being: Immunity 50
(Fortitude Effects, Very Common Descriptor: Mental)
Internal Assembly: Summon 11
(Active, Controlled, Sacrifice; Activation 2: standard action)
Mounted Weaponry
. .
Knockout Beacon: Cumulative Perception Area Affliction 12
(1st degree: Fatigued, 2nd degree: Exhausted, 3rd degree: Asleep, Resisted by: Fortitude, DC 22; Perception Area, Cumulative)
. .
Mind Control Ray: Cumulative Affliction 9
(1st degree: Dazed, 2nd degree: Stunned, 3rd degree: Controlled, Resisted by: Will, DC 19; Cumulative, Increased Range 2: perception)
. .
Missiles: Burst Area Damage 12
(DC 27; Burst Area: 30 feet radius sphere, Increased Range: ranged)
. .
Palm Blasters: Damage 15
(DC 30; Accurate: +2, Increased Range: ranged, Split: 2 targets, Variable Descriptor 2: broad group - Any Energy)
Radio Communication: Radio Communication 3
TARGET ACQUIRED: Senses 11
(Acute: Detect, Analytical: Detect, Detect: Super beings (Visual) 2: ranged, Extended: Detect 2: x100, Penetrates Concealment: Detect, Tracking: Detect 1: -1 speed rank)
Offense
Initiative +6
Grab, +7 (DC Spec 27)
Knockout Beacon: Cumulative Perception Area Affliction 12 (DC Fort 22)
Mind Control Ray: Cumulative Affliction 9 (DC Will 19)
Missiles: Burst Area Damage 12 (DC 27)
Palm Blasters: Damage 15, +11 (DC 30)
Throw, +1 (DC 32)
Unarmed, +9 (DC 32)
Defense
Dodge 3, Parry 7, Fortitude Immune, Toughness 19, Will 9
Power Points
Abilities 24 + Powers 209 + Advantages 5 + Skills 17 (34 ranks) + Defenses 25 = 280
Complications
Disability: Master Mold has been imprinted with human memory engrams and must try to reconcile two vastly different streams of consciousness. Or go crazy.
Obsession: The core programming of all Sentinels is to hunt down Mutants.
Weakness: Sentinels' robotic construction makes them vulnerable to attacks involving magnetic force, electricity, wire gnawing squirrels, and similar.
Master Mold was originally built to be the Sentinel control system for use by Bolivar Trask or Stephen Lang or whomever. It quickly gained sentience and decided that the best way to control the mutant problem is to illuminate humanity and their ability to produce mutant offspring. While a self aware AI deciding to war against humanity is nothing new, Master Mold has the original spin of being absolutely huge enough to have a Sentinel assembly line in its belly. That and MM's programming core and protected by high tech PL 13 weapons and armor. Simply by dint of size, Master Mold is strong enough to hit its close combat caps and has a blast impact big enough to be "accurate". There's also PL 12 area effects, a last ditch mind control power, and (for some reason) Stephen Lang's memories and technical know how.