Batman, Iron Fist, and the League of Assassins part 1
After his adventures in Wakanda,
Bruce Wayne
ventured to the fabled city of
Nanba Parbat
where he sought to learn their techniques for mastering the self. Despite the fact Rama Kushna could not quiet the demons inside his soul, Bruce Wayne learned the ways of martial arts combat from
Richard Dragon
and was told there were even higher mysteries he could seek.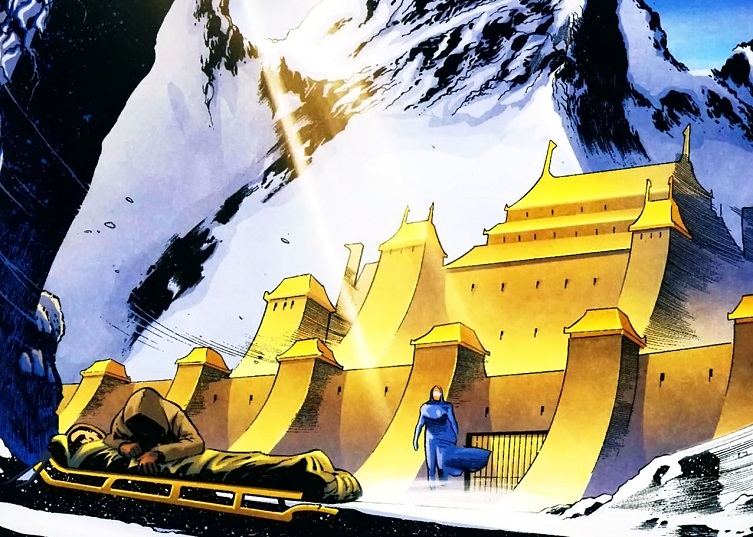 Nanba Parbat, you see, was one of eight Heavenly Cities (formerly twelve) which had once been the center for mystical enlightenment on Earth. Nanda Parbat was the only one which would remain in alignment with the Earth at all times as the others would only appear every ten years.
Bruce Wayne sought a hidden portal that would allow him to be able to visit this place even though the land was not in alignment. Becoming lost in a snowstorm, he sought shelter in a nearby cave and awoke in a city unlike any he'd ever seen. It was there that he was welcomed by
Yu-Ti, the August Personage of Jade
.
"Bruce Wayne, it is here that you will train and learn the ways of K'un-Lunn. If you prove worthy, you will be bestowed the title and power of Iron Fist."
Bruce discovered he was not the only outsider being trained in the ways of K'un Lunn Kung-Fu. Westerner
Danny Rand
, heir to Wayne-Tech long-time rival Rand Industries, had spent his entire early life studying the ways of their fighting style. Their similarity was immediately noticeable and Danny felt Bruce's presence was an insult. During their first encounter, Danny easily defeated Batman.
Weeks later, Danny found it was not so easy to do so.
Months later, Danny was hard pressed.
After a year, they were equal in almost every way.
Time passing different in K'un-Lunn allowed Batman to spend time there without aging.
Danny started to severely doubt whether or not he would be able to achieve the mantle of Iron Fist and whether Bruce Wayne would inherit the title instead. Bruce, meanwhile, wondered if he wanted such an exotic title even as he entertained a romance with a woman visiting K'un Lunn named
Talia
.
Little did they know, it was all part of a larger scheme and their destinies would be far different than either expected.