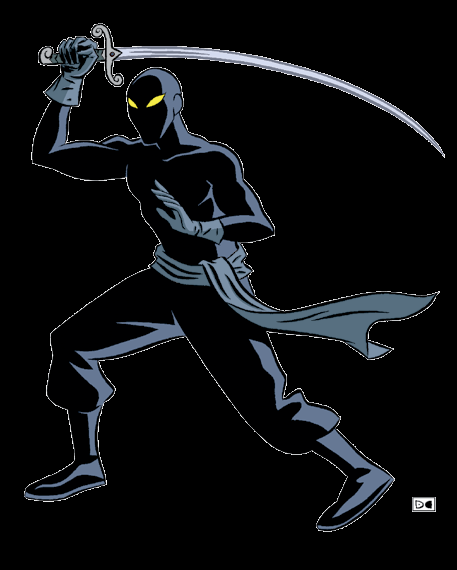 Scimitar
PL 11
Strength 6, Stamina 7, Agility 5, Dexterity 5, Fighting 11, Intellect 1, Awareness 2, Presence 3
Powers
Questionite Scimitar
(Easily Removable)
6
Cuts through anything
Strength-based Damage 5, Improved Critical 2, Power Attack, Improved Smash
Future Soldier
Speed 1, Leaping 1, Power-Lifting 2
Advantages:
Benefit 1 (Wealth), Contacts, Equipment 4, Language (English, base: Czech), Quick Draw, Ranged Attack 4
Equipment:
Blaster Pistol (Blast 6), Armored Costume (Protection 3), mask comm, nightvision lenses
Skills:
Acrobatics 7 (+12), Athletics 6 (+12), Expertise (current events) 2 (+3), Expertise (mercenary) 5 (+6), Expertise (tactics) 3 (+4), Insight 5 (+7), Intimidation 8 (+11), Investigation 4 (+5), Perception 6 (+8), Stealth 8 (+13), Vehicles 4 (+9)
Offense
Initiative +5
Scimitar +11 Damage 11
Blaster pistol +9 Damage 6
Defense
Dodge 12 (
6
), Parry 12 (
1
)
Toughness 10/7, Fortitude 10 (
3
), Will 8 (
6
)
Abilities 80+Powers 10+Advantages 12+Skills 29+Defenses 16=147
Complications
Wanted
By both PHANTOM and UNISON.
Rivalry
Other professional mercs and super assassins, especially Stilleto, whom Viktor loathes.
Hatred
For PHANTOM, who experimented on Viktor in the first place.
Unstable
Viktor is paranoid, constantly thinking he's being watched, or that people are out to get him. The worst part is, he's right, which only makes getting him to not be paranoid even harder.
Migraines
Viktor suffers from frequent migraines that he tries to drown with alcohol and pills, but they can still sometimes act up and leave him Impaired in the middle of a job.
•Viktor Zatopek is a soldier from the Czech republic who joined PHANTOM for the chance to travel the world. He served well for a few years before he was selected as part of a super solider program, trying to recreate the formula used on Captain America. While the process was mostly successful, making Viktor an enhanced example of humanity, it also drove him mad-instilling him with constant paranoia, anxiety, and painful migraines. Falling into crime, he acquired his namesake weapon from the Foundry, and has been a ruthlessly effective mercenary and assassin in Europe for years now. Recently, he worked with Overthrow on their attack against the Vatican, and remains at large.
•Scimitar is a dangerous foe-he combines a super-science melee weapon with near-superhuman strength, so he can dish out plenty of damage. I tied a few Advantages to his scimitar so he can Power Attack to rank 16 damage with it, but without it only hits DC 23 unarmed, as he's not really supposed to be a brick type. While obviously more dangerous up close, he's smart enough to carry a ranged weapon in case of fliers or other foes who melee would be problematic against. Viktor wasn't always a bad guy, but years of his condition and his new job have made him a fairly irredeemable killer, the kind of guy the heroes shouldn't be conflicted about beating up.