The Green Knight of Bretonnia PL 14
– 345pts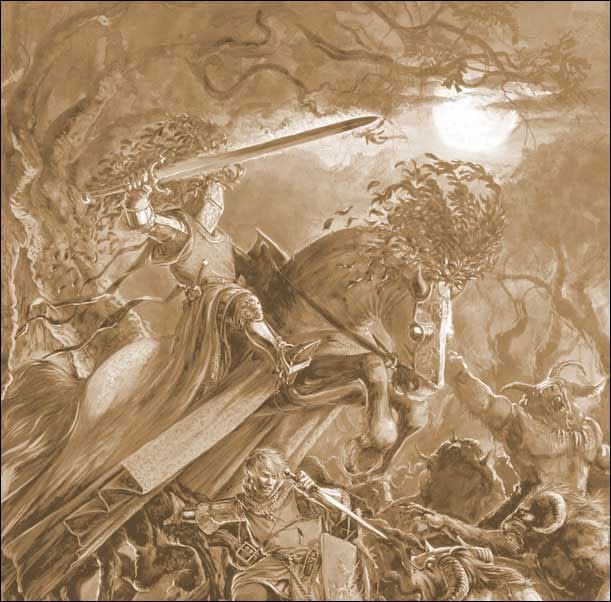 "None Shall Pass!"
Abilities
– 75pts
Strength 26 +8
Dexterity 16 +3
Constitution 25 +7
Intelligence 18 +4
Wisdom 20 +5
Charisma 30 +10
Saves
– 26pts
Toughness +13/+7 (6/0 Impervious)
Fortitude +18
Reflex +5
Will +18 (10 Impervious)
Combat
– 44pts
Attack +16 (Melee) +10 (Ranged)
Damage +11 (The Dolorous Blade)
Defence +15 (+6 Flatfooted)
Grapple +24
Initiative +11
Feats
– 61pts
Accurate Attack
All-out Attack
Ambidexterity
Assessment
Attack Focus Melee 6
Benefit 2: Reputation [Unstoppable Fighter] [Undying Champion]
Blind-Fight
Defensive Attack
Favoured Environment: Brettonia
Fearless
Fearsome Presence 10
Heroism 4 (Luck)
Improved Block 2
Improved Critical [Sword]
Improved Disarm 2
Improved Inititiative 2
Inspire 5
Leadership
Power Attack
Second Chance 10 [Toughness saves vs Slashing, Piercing, Bludgeoning, Ballistic Damage] [Any saves vs Magic] [Intimidate] [Sense Motive]
Skill Mastery [Bluff] [Intimidate] [Ride] [Sense Motive]
Startle
Takedown Attack 2
Uncanny Dodge [Visual]
Ultimate Effort [Power Checks]
Weapon Bind
Skills
– 36pts [144 ranks]
Bluff 12 [+22]
Climb 8 [+16]
Concentration 16 [+21]
Diplomacy 9 [+19]
Handle Animal 8 [+18]
Intimidate 19 [+29]
Notice 12 [+17]
Ride 16 [+19]
Search 12 [+16]
Sense Motive 16 [+21]
Swim 8 [+16]
Powers
– 139pts
Immunity 17:
Aging, Fatigue, Life Support, Sleep, Starvation – 17pts
Impervious Will 10 – 10pts
Regeneration 44:
All Conditions 1/round Free Action (True Resurrection [+1 Extra], Diehard, Persistent, Regrowth [Actually often done by reattaching the severed pieces]) – 57pts
The Dolorous Blade
(Can be Disarmed, but it always returns to his hand when needed)
--Strike 3
(Mighty, Improved Critical, Autofire [+3 Extra]) – 40pts
--AP Corrosion 11
(Improved Critical)
--AP Strike 3
(Mighty, Improved Critical, Autofire [+2 Extra], Penetrating [+1 Extra])
The Green Armour
[Permanent Container 3]
--Protection 6
(Impervious [+1 Extra]) – 12pts
--Shield 3
– 3pts
Notes:
Here's the character I recall causing more problems than anything else on the battlefield for me during the fifth edition of Warhammer FB. In a fight he's a straight monster that just won't stop no matter the damage he takes, and given his skill with that monstrous blade of his it's likely he'll give as good as he gets. He's gotten a handful of things that isn't evident in his original stats, such as his mental scores and social skills, but I felt they're deserved. I might have missed something, but I'm quite happy with these stats.