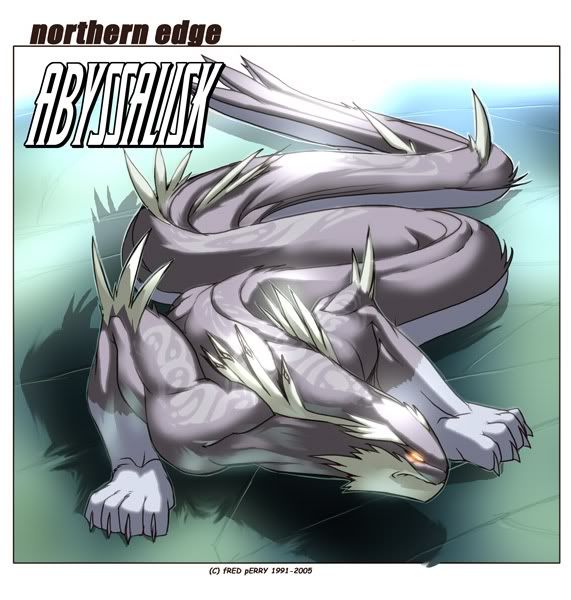 ABYSSALISK
(PL 20, Minion 22)
Attributes
STR 49 (+19), DEX 15 (+2), CON 32 (+11), INT 5 (-3), WIS 14 (+2), CHA 8 (-1)
Combat
Attack +16 (includes -8 size), Damage +19 (unarmed), Defense 26 (Flat-Footed 14), Initiative +6
Saves
TGH +17, Fort +25, Ref +16, Will +10
Feats
Blind-Fight, Environmental Adaptation 2 (Astral Plane, Ethereal Plane), Improved Initiative, Power Attack, Takedown Attack 2, Uncanny Dodge 2 (hearing, mental)
Skills
Notice 16 (+18], Swim 4 (+23)
Powers
Growth 17
(Power Feat: Innate, Extra: Duration – Continuous [+1], Flaw: Permanent [-1]) (54pp)
Mental Transform 11
("insanity" completely alter target's mind [4pp/rank]; Extra: Duration – Continuous [+1]) (55pp)
AP –
Blast 11
("burning ray") (1pp)
AP –
Blast 11
("disruption ray" Extra: Alternate Save – Fortitude [+1]) (1pp)
AP –
Confuse 11
(1pp)
AP –
Disintegrate 11
(1pp)
AP –
Stun 11
(Extra: Range – Ranged [+1]) (1pp)
AP –
Transform Flesh to Stone 11
(Extra: Duration – Continuous [+1]) (1pp)
Nullify 12
(all magic effects at once; Extra: Power Resistance [+1]) (36pp)
Protection 6
(6pp)
Super-Senses 9
(Accurate Hearing, Darkvision, Detect Living Creatures [ranged, radius, mental sense], Extended Hearing 2, Magical Awareness) (9pp)
Drawbacks
Disability (mute [very common, moderate]) (-4pp)
Disability (no hands [very common, moderate]) (-4pp)
Ability Scores: 12, Skills 5, Feats 10, Powers 166, Combat 96, Saves 36, Drawbacks –8 = 317
This monstrosity is a creature originating in the pages of one of my favorite comic series: Fred Perry's Gold Digger.
These creatures originated from the chaos of the ethereal and astral planes and somehow managed to manifest themselves into the Material Planes during the Era of Magic. They are generally concidered highly dangerous to outright deadly preditors. While they possess incredibly powerful bodies and tough but finely scaled hides, their true threat comes from the ether-vents that protrude from its shoulders on feathered stalks. These ether-vents can all fire deadly spell rays that paralyze, burn/berzerk, stun, or confuse at best and petrify, incinerate, disrupt or cause insanity at worst (which is usually the case.) Combined with its incredible agility, uncanny reflexes and tremendous strength, this creature is something even a dragon would rather not tackle without a lot of backup!
Since Abyssalisks hunt by aura sense and hearing, it's kinda hard to fool them (not impossible though).
It can dash on two legs with its tail as a long balance pole in open fields. It can rear up like a cobra and use its legs as clawed weapons during a strike.