Aquaman II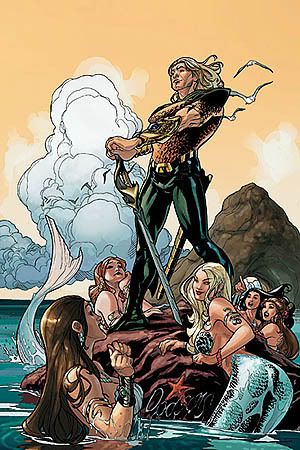 It's good to be king
PL
: 11
PP
: 188
Abilities
: STR 29; DEX 23; CON 25; INT 15; WIS 16; CHA 16
Saves
: Tough 7; Fort 7; Ref 6; Will 7
*+4 Toughness from armor
ATK
: 7
DEF
: 8
INI
: 14
FEATS
: Acrobatic Bluff; All OUt atk; Animal Empathy(sea-life); Atk focus (2 ranks, Melee); Atk specl (1 rank; Sword); Attractive (3 ranks); Blindfight; Contacts; Defensive Atk; Dodge Focus (1 rank); Endurance (4 ranks); Enviromental Adaption(underwater); Equipment (2 ranks); Favored Enviroment{underwater}(3 ranks); Improved Def (1 rank); Improved Ini (2 ranks); Improved Sunder; Power atk; Rage (2 ranks); Seize Ini; Stunning atk; takedown atk (2 ranks); Uncanny Dodge (2 ranks; Auditory); Weapon bind; Weapon Break
Powers
: Enhanced Str (16 ranks) 16pp
Enhanced Dex (10 ranks) 10pp
Enhanced Con (15 ranks) 15pp
Supersenses: Visual (3 ranks; Extended, Darkvision) 3pp
Supersenses: Auditory (2 ranks; Extended, Ultra-hearing) 2pp
Supersenses: Olfactory (3 ranks; Track, Scent, Extended) 3pp
Supersenses: Other (4 ranks; Extended Tremorsense; Limited{underwater}) 2pp
Immunity (3 ranks, high Pressure, Suffocation underwater, cold) 3pp
Empathy (9 ranks; Extras: Sensory Link; Flaws: Limited{sea-life}) 9pp
Swimming (8 ranks; 5,000 mph) 8pp
Superstrength (4 ranks) 8pp
Comprehend (2 ranks; Flaws: Broad Type{all aquatic humanoids}) 2pp
Skills
: Concentration 9; Handle animal (sea-life) 11; Knowledge (Marine Biology) 12; Knowledge (Atlantean History) 10; Swim 10;
Drawbacks
: Power Loss(all powers, extended exposure to the surface, minor/Common)
Equipment
:
Sword: Sword of Atlantis (Mighty-6 EP)
Aquaman Armor (Protection 4 EP)
Back Story
: Arthur Joseph Curry is the young man that is carrying on the legacy of Orin, the origional Aquaman. He isn't naturally gifted like his predecessor, but he does have many of the same traits, due to genetic mutation. He was, at one time early in his career, traveling with the mysterious "Dweller of the Depths" (actually Orin, the origional Aquaman, gifted powerful magics at the cost of his memory and humanity), and the powerful sea beast, King Shark, once an enemy of the origional Aquaman. Bearing armor very similar to the origional Aquaman's, and the fabled "Sword of Atlantis", Arthur Joseph Curry is determined to carry on his predessor's amazing legacy
**WOW...I have to say that I an really liking the new look and attitude of this Aquaman...no more "sea-angst"...lot more "sea-born warrior". They decided to push the book into a much more "sword and sorcery" style...and succeeded in my opinion, as we see this young warrior traveling with a mysterious old magician and a super strong sea beast. Most Impressive.
This Aquaman is toned down from his previous incarnations. He isn't a strong, or as fast under water....no insane reflexes...and gone, currently, are the days of tea and crumpets with squids and clownfish. He does share many things with the Origional Aquaman's "Golden age": he has problems if he spended extended time out of water (though he has been able to use his enhanced senses on the surface), the swimming speed, immunities, strength, and ability to resist damage and the usual consequences of deep sea diving.
there are a couple things that seperate A.J. Curry from Orin: He is adventuring with a sword and armor, as well as the powerful King Shark. He also has a empathic connection with all sea life, instead of a flat out telepathic connection. He cannot talk to sea-life, though he can send and receive emotional urges, like a need for help. He is also able to channel his senses through his empathic link, being able to "see" or "hear" through the senses of another animal.
He is also a much better natural fighter, though he is still getting his full bearings. King Shark and he already faced off against Superman and Batman underwater, and came to a standstill. So, I gave him a nice set of skills that would represent a rather gifted swordfighter, and I can see this Aquaman being just that. Not much fencing with this man of the sea, as I envision his fighting much like that of a medieval fighter with a long sword...strong, fast hacking motions rather then poke....poke....swish...poke...
While I am sorry to see origional characters go...I think it was time for "Orin the one handed" to take a nice long rest...again.