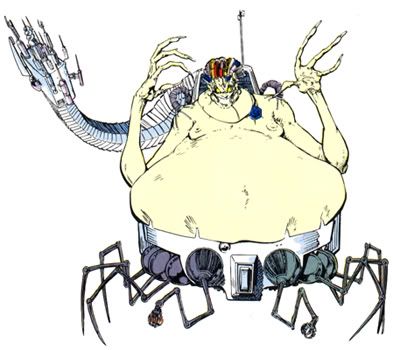 MOJO-
My most hated X-Villain ever...
Villain of: Longshot, The X-Men
PL 8 (150)
ST 24 (+7) DEX 6 (-2) CON 20 (+5) INT 20 (+5) WIS 14 (+2) CHA 20 (+5)
Skills:
Bluff 3 (+8)
Computers 5 (+10)
Intimidate 4 (+9)
Knowledge (Arcane Lore) 3 (+8)
Knowledge (History) 4 (+9)
Knowledge (Pop Culture) 10 (+15)
Knowledge (Technology) 4 (+9)
Notice 2 (+4)
Perform (Oratory) 8 (+13)
Profession (Network Executive) 7 (+12)
Feats:
Benefit (Ruler of the Mojoverse) 5, Fearsome Presence, Improved Pin, Minions 20 (Goons, Gladiators, Scientists, etc.)
Powers:
"Death Touch" Drain Constitution 4 [4]
Immunity 1 (Rogue's Power Drain) [1]
"Tremendous Fat Blob" Protection 3 [3]
Magic 10 (Flaws: Check Required- Followers' Devotion) [10]
AP: Blast 10
"Walking Platform" Device 6 (hard to lose) [24]
Features 4: Removes Disabled Drawback (4)
Additional Limbs 3 (4 Legs, 2 Arms, Tail) (3)
"Scorpion Tail" Blast 10 (21)
AP: Strike 10 (Feats: Improved Critical, Extended Reach) -- (28 points)
Saves:
Toughness +8, Fortitude +7, Reflex +0, Will +6
Combat:
Attack +6, Damage +7 (+10 Blast, Strikes), Defense +4, Initiative -2
Drawbacks:
Disabled (Immobile) [-4]
Abilities: 44 / Skills: 52--13 / Feats: 27 / Powers: 42 / Saves: 8 / Combat: 20 / Drawbacks: -4 (150)
-As a kid, I ALWAYS hated the Mojo stories. It was always a shining symbol that the story in question would be about the heroes engaging against goofy villains, bizarre adventures, and general mind-screwy stuff when all you wanted was stories about fights. When you're too young to get the jokes about TV executive corruption and modern society's obsession with mind-numbing entertainment, Mojo's just a sign you're about to read artsy-fartsy self-indulgent stuff from Chris Claremont & Alan Davis. The fact that he looked RETARDED, a big fat yellow dude sitting on a spindly-legged robot, didn't help matters. Then there's the X-Babies, his non-threatening ways (he's SUPPOSED to be ultimate evil, but is ineffective in fights and is written to be stupid and blithering half the time), and the fact that his arch-nemesis is so brutally obviously from the 1980s that he just can't be taken seriously (the blonde mullet isn't even the worst part of him). So even today, I just can't get into Mojo stories.
-Mojo's expensive purely for being the dictator of an entire universe, giving him unlimited stores of minions & machines to throw against the heroes. Fighting against him is more like a battle in Murderworld, where what you see isn't necessarily what's there, there's traps everywhere, etc., etc. He has a fair bit of power himself, but is woefully inaccurate and no battlefield leader. Half his powers I haven't even seen, because most adventures featuring him don't have him throwing a punch.