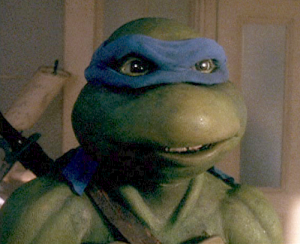 LEONARDO
Position: Leads
Colour of Choice: Blue
Weapon of Choice: Katana (Dual or Single-Wielding)
Named For: Leonardo da Vinci
Voice Actor: Brian Tochi
PL 9 (135)
ST 17 (+3) DEX 22 (+6) CON 20 (+5) INT 14 (+2) WIS 16 (+3) CHA 16 (+3)
Skills:
Acrobatics 6 (+12)
Bluff 4 (+7)
Concentration 4 (+7)
Diplomacy 4 (+7)
Escape Artist 4 (+10)
Gather Information 2 (+5)
Intimidate 4 (+7)
Knowledge (Theology & Philosophy) 6 (+8)
Notice 6 (+9)
Search 4 (+7)
Sense Motive 4 (+7)
Stealth 6 (+12)
Survival 4 (+7)
Swim 6 (+10)
Feats:
Accurate Attack, Acrobatic Bluff, Assessment, Attack Focus (Melee) 3, Blind-Fight, Defensive Attack, Dodge Focus 2, Endurance, Equipment 2 (Katana, Pair), Follow-Up Strike, Improved Critical (Katana) 2, Improved Critical (Unarmed) 2, Improved Defense, Improved Disarm, Improved Sunder, Power Attack, Leadership, Set-Up, Takedown Attack 2, Teamwork
Powers:
"Half-Shell" Protection 2 (Extras: Impervious) [4]
Equipment:
"Pair of Katanas" Strike 3, Mighty, Improved Critical, Penetrating 2, Split Attack (2 Equipment Points)
Saves:
Toughness +7, Fortitude +7, Reflex +7, Will +7
Combat:
Attack +9 (+12 Melee), Damage +4 (+7 Katana), Defense +9 (+11 Dodge), Initiative +6
Complications:
Responsibility (Leads the Team)
Responsibility (Master Splinter)
Rivalry (Raphael)
Secret (Must Remain Hidden From Public View)
Abilities: 45 / Skills: 64--16 / Feats: 27 / Powers: 4 / Saves: 7 / Combat: 36 (135)
-Leonardo is the de facto leader of the Ninja Turtles, given the cool blue headgear and the best Japanese weapon ever, the katana. Unfortunately, in virtually every TMNT-continuity ever, he's been limited to just donking guys with the butt ends, cutting up robots, or knocking over scenery with them, since you can't have him hack up Shredder in front of the kiddies. In the movie, he was my favourite version ever, the intense, lone leader-type, emotionally divesting himself at times, but in reality feeling the hits the hardest when his brothers or master were injured. He was noble, smart, wise and still pretty funny along with the rest of them (but not the class clown like Don & Mikey). His rivalry with Raphael was beautifully done there, as well. Interestingly, in nearly every continuity, he's always the most serious one, but the one considered the best fighter and most noble-hearted.
-I finally decided on a PL 9 (135) basis for the Four Turtles, after milling on a PL 8 (120) set-up. In the movies, they were great fighters, and could knock around six or seven Foot Ninjas each in giant group-fights, but would lose to a large group solo, and got the living crap beaten out of them by Tokka, Rahzahr & Shredder any time they fought. I think that roughly coincides with the "Daredevil" class of hero, which I think PL 9 fits quite well. Leo's set up as a well-balanced, effective fighter, not overly reliant on gimmicks or weapons (since he doesn't take life deliberately, he's often stuck just using his feet against Foot Ninjas), and possessing a great array of Combat Feats. He's also a great team player and a leader, and has probably the highest set of Mental Stats of all the brothers.