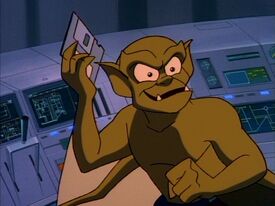 "Lexington!... Do you like it?" (when naming himself)
LEXINGTON
Played by: Thom Adcox
Role: The Techie, The Shrimp
PL 8 (120)
ST 16 (+3) DEX 22 (+6) CON 16 (+3) INT 18 (+4) WIS 12 (+1) CHA 10
Skills:
Bluff 4 (+4)
Computers 6 (+10)
Craft (Electronic) 4 (+8)
Craft (Mechanical) 4 (+8)
Disable Device 5 (+9)
Drive 2 (+9)
Handle Animal 2 (+2)
Knowledge (Physical Sciences) 3 (+7)
Knowledge (Technology) 6 (+10)
Notice 2 (+3)
Pilot 2 (+9)
Sense Motive 2 (+3)
Stealth 2 (+9)
Feats:
Accurate Attack, Attack Focus (Melee) 3, Beginner's Luck, Defensive Attack, Defensive Roll 2, Defensive Strike, Dodge Focus 4, Elusive Target, Equipment 5 (Computer, Helicopter), Jack-of-All-Trades, Power Attack, Set-Up, Teamwork
Powers:
"Gargoyle Claws"
Super-Movement 1 (Wall-Crawling) [2]
Strike +1 (Feats: Mighty, Penetrating 5) [7]
"Gargoyle Physique"
"Wings" Flight 3 (Drawbacks: Power Loss- Winged, Power Loss- Must Have Vantage Point/Wind -2) [3]
Regeneration (Injured 2, Disabled 2) (Flaws: Limited- Stone Sleep Only) [2]
"Tail" Additional Limbs 1 [1]
Super-Senses 3 (Scent, Darkvision) [3]
Leaping 2 [2]
Immunity 2 (Heat, Cold) [2]
Saves:
Toughness +3 (+5 D.Roll), Fortitude +5, Reflex +7, Will +5
Combat:
Attack +8 (+11 Melee), Damage +3 (+4 Claws), Defense +7 (+11 Dodge), Initiative +6
Drawbacks:
Involuntary Transformation (Stone By Day) [-6]
Complications:
Responsibility (The Clan)
Prejudice (Monster)
Secret (Apparently Gay)
Enemy (Personal grudge against The Pack)
Abilities: 34 / Skills: 44--11 / Feats: 23 / Powers: 22 / Saves: 6 / Combat: 30 / Drawbacks: -6 (120)
-Lexington was the necessary "understands how machines work" guy in the show- you really couldn't have the entire cast stumble about, knowing nothing about anything. Lex was also kinda shrimpy, but fairly capable in battle, and was the cuter, more innocent member of the pretty-ugly clan. I didn't care for him as much as the others (not nearly as bad-ass or as conflicted as I liked 'em), but he was still alright. That future episode where Cyborg-Lex takes over the world gave a significantly darker edge to his persona as well.
-Lex was a miserable bastard to hammer down to 120 pp, mainly because he has so many Skills & Feats. Statting up kind of like a high-accuracy & defense character who's much weaker and more fragile than the rest of the Clan, he lacks most of their Combat Feats, instead possessing the Helicopter, computer, and various techno-skills that make him indispensible in other ways. He's still based around being fast in combat (Accurate, Defensive, high Dodge, etc.), but he's notably only PL 7.5 on offense because of his relatively low strength, whereas everyone else balances evenly. Note, too, despite his size, he's still pretty strong, with a +3 strength bonus. Not too great, but he can pick up & toss someone just as well.