PAUL BRINDLEY

(Power Level 6)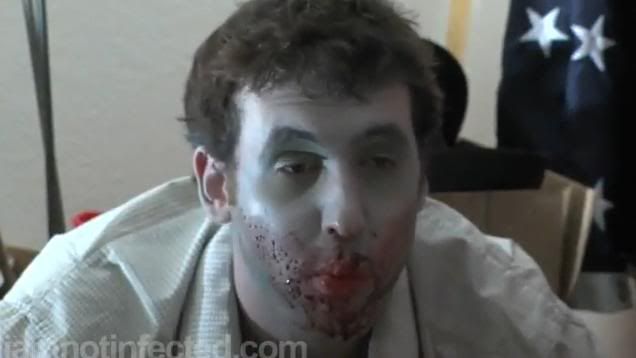 STR 10, DEX 10, CON N/A, INT 10, WIS 8 (-1), CHA 13 (+1)
SKILLS
: Knowledge (popular culture) 3, Language 1 (his own)
FEATS
: Attack Focus (ranged) 2, Equipment 2
POWERS
:
Immunity 30
(Fortitude effects),
Protection 2
Equipment
: Bluetooth headpiece (as attractive), heavy pistol, hospital gown
COMBAT
: Attack +2 (+4 ranged), Grapple +2, Damage +0 (+4 heavy pistol), Defense +2 (+1 flat-footed), Knockback -1, Initiative +0
SAVES
: Toughness +2, Fortitude N/A, Reflex +2, Will +4
COMPLICATIONS
: Phobia (Dark), Rivalry (Hartley and, uh, kinda Charlie…), Secret… Kinda… (HIV Positive)
Abilities -9 + Skills 1 (4 ranks) + Feats 4 + Powers 32 + Combat 8 + Saves 7 = 43 points
Michuru81 wrote:Paul rounds out the main cast of

I AM NOT INFECTED

, a comedy series about zombies and the greatest web series available. Paul is easily recognized of the trio given how he dresses through the bulk of the show: when the zombie outbreak occurred Paul was at a free clinic getting the test results back on his HIV test (he's infected) and now runs around Los Angeles in a hospital gown that is perpetually open in the back.

According to Paul himself, he's the most expendable of the three (Charlie runs the website and Hartley lifts heavy things) which is eventually proven true as he's now infected (again): Paul is now a zombie.

The zombies of IAMI eventually lose their senses but as we've seen twice (first with Katie's daughter and now with Paul), soon after the infection they're still capable of communicating. When asked what he's doing Paul answers clearly, "Eating Larry's brains." Until Paul begins to groan incoherently in the manner the others do he is still in possession of his Intelligence and Charisma scores.

Not a whole lot say about Paul. Then again, I don't really like Paul. I'm kind of glad he's a zombie. Here's to hoping Charlie offs him at some point.