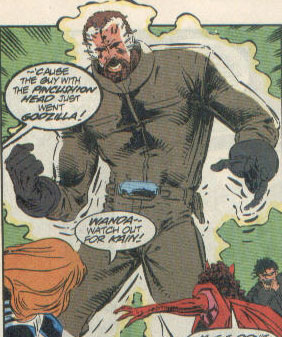 MORGAN KAIN
PL 8 (140)
ST 10/50 (+15) DEX 12 (+1) CON 12/32 (+1/+11) INT 18 (+4) WIS 13 (+1) CHA 10
Skills:
Intimidate 4 (+4)
Investigate 4 (+5)
Knowledge (Physical Sciences) 4 (+8)
Knowledge (Life Sciences) 4 (+8)
Knowledge (Technology) 6 (+10)
Notice 4 (+5)
Sense Motive 3 (+4)
Feats:
Teamwork
Powers:
Growth 20 (Drawbacks: -10 Max. Strength) [50]
Machine Animation 10 (Feats: Progression 3) (Extras: Horde) [33]
Super-Senses (Detect Machines- Ranged 2, Acute) [3]
Saves:
Toughness +1 (+11 Full Size), Fortitude +3/+13, Reflex +2, Will +3
Combat:
Attack +6 (+0 Full Size), Damage +0 (+15 Full Size), Defense +7 (+0 Full Size), Initiative +1
Abilities: 15 / Skills: 28--7 / Feats: 1 / Powers: 86 / Saves: 5 / Combat: 26 (140)
-Kain's a REALLY bizarre one- not in appearance (he's just a guy in a speed-suit with nails in his head... pretty normal for this crew, you see), but in powers- who else combines Machine Animation with Growth? And not minor growth either- this guy jumps up to 100 feet, and can ALSO control passing airplanes and stuff like that. Very bizarre mix of powers, making him the most effective of his group thus far. His Animation power is enough to control things like Klaw's Sound-Blaster Claw as well as full-size jets. He was one of the only members of his team smart enough to figure out that Demonicus was NUTS, but was mind-controlled into servitude anyways, which ultimately killed him when Demonica collapsed. Sure, Dr. D turned up alive, but he was a RECURRING VILLAIN. THIS batch of losers is likely only known to Roy & Dann Thomas, their creators, and likely no other writers or artists. So we'll never see the likes of these losers again
.