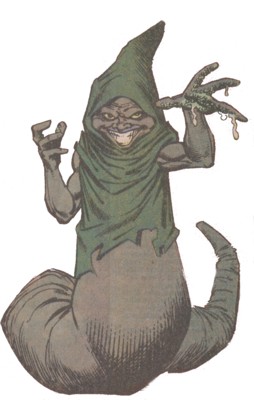 WORM
Created By:
Chris Claremont & Marc Silvestri
First Appearance:
Uncanny X-Men #250 (Oct. 1989)
Role:
Jobber Villain, Mind Controller
Group Affiliations:
The Savage Land Mutates
PL 10 (113)
STRENGTH
-1
STAMINA
0
AGILITY
-1
FIGHTING
5
DEXTERITY
0
INTELLIGENCE
2
AWARENESS
2
PRESENCE
0
Skills:
Close Combat (Unarmed) 2 (+7)
Expertise (Survival) 4 (+6)
Insight 5 (+7)
Intimidation 4 (+6)
Perception 4 (+6)
Stealth 5 (+4)
Advantages:
Teamwork
Powers:
"Mutate Nature: Mind-Controlling Mucous"
Affliction 13 (Will; Dazed/Compelled/Controlled) (Extras: Cumulative, Contagious, Progressive +2) [65]
Features 1: Can Bestow "Ownership" of Thralls to Another [1]
"Worm-Like Body" Movement 1 (Slithering) [2]
Offense:
Unarmed +7 (-1 Damage, DC 14)
Mucus +7 (+13 Affliction, DC 23)
Initiative -1
Defenses:
Dodge +6 (DC 16), Parry +9 (DC 19), Toughness +0, Fortitude +3, Will +7
Complications:
Motivation (Leader's)- All the Mutates will readily follow the most dominant personality, and do whatever they say.
Motivation (Control)- Worm loves watching his thralls dance like puppets, drawing a perverse pleasure from it.
Power Loss- If the mucus Worm distributes is washed off or chemically neutralized, his victims are freed from his control.
Total:
Abilities: 14 / Skills: 24--12 / Advantages: 0 / Powers: 68 / Defenses: 19 (113)
-Okay, this isn't even funny anymore. ANOTHER Mind Controller? Talk about a limited gimmick. Worm is rather a lot like Masque, another diminutive guy with weird gross powers, but with a close-range Mind Control attack. He squeezes mucous from suction-cup thingies on his palms, which then covers targets and forces them to do his bidding. This mucous can then come off onto OTHER subjects, meaning he can gather an entire army of thralls in a short time- just about the only character I can think of to actually use the "Contagious" Extra. It's also Progressive (needs no extra input from him, and gets worse as the guys miss saves) and Cumulative, making it extremely expensive and powerful. But again, like his buddies, he's one-note, and pretty much unable to hurt anyone unless he's controlling them.