Hey, guys. Need to go asking for a little help. I'm one of the writers on the
DC Universe
book and the time has come for me to send Jon my art requests for my chapter.
As you might remember from when Jon went crowd-sourcing for usable art to put in
DC Heroes & Villains
(Vol I), the art materials in the DC licensed books must come only from DC's archives of art. This complicates things a little bit.
(1) The art must be from books that DC has published in the last 10 years – in other words, since 2000. That's what they'll have in their digital archives. Reprinted in a compilation or graphic novel in the last ten years is also good for earlier art sources.
(2) It can't be painted, ala Alex Ross…it must be line art.
(3) DC will need a lot of specific info to go look it up –
• scan of page as .jpg (or link to image online)
• title of book
• issue#
• cover date of issue
• page number (NOT counting advertisements)
• writer(s) names
• artist(s) names
• inker(s) names
I don't have a reliable scanner for scanning in my own books to show, and many of my favorite sources are too old anyway (pre-2000, in some case by quite a margin…I'm 41 and have been collecting since I was 6). I need to comb your collected resources to fill out the details and put your combined magical imaginations to work. In exchange, I will gladly include the names of the people who pull the art that actually gets used in some sort of author's dedication ("Special thanks to X, X, X, and X for their able assistance…" or some such).
I have the below slots left to fill. In several cases, I have already found art I like online and simply need for someone to hit me with the details (and some of those I already have too, in case of the
Infinite Crisis
and
Final Crisis
or related, but double-checking info is never a bad thing). If somebody out there wants to suggest a piece to replace one of the ones I'm posting, I'm certainly open to giving it a look.
Note that if I don't agree with a suggested piece, it's nothing personal against the submitter. Also, just because you and I both LOVE a piece beyond all rational thought doesn't automatically mean the Mighty Hal will okay it (due to arcane production reasons that surpass the understanding of we non-production mortals. All praise the Hal. The Hal is wise and benevolent.) -- So my heaping gratitude and praise is utterly irrelevant to whether or not it actually makes it into the book. Sorry.
Also, drawing conclusions from this list about what is NOT in the chapter is unwise. Trust me, I threw so much in there that Jon will probably read the final draft and lament, "
Aaron, why do you hate me so when I've never been anything but nice to you?
" I just have limited art space and choices had to be made. And as you will one and all figure out quickly, my chapter is the one about Other Dimensions. That much is clear from the list….but I can't share more detail without permission. Again, sorry.
Everybody clear? Cool. Here's my list that I need input for:
Full-Page -- >
Multiverse
"feel" image. I picked the below from
Infinite Crisis
-->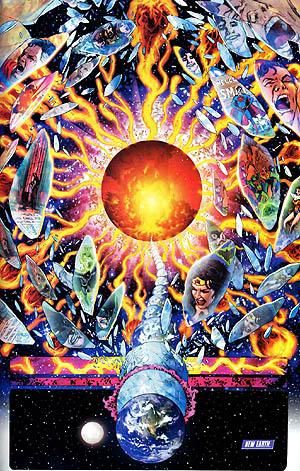 Half-Page-->
The Bleed
. Need a good pic from the crowd please.
Half-Page-->
The Monitors
. I picked the following -->
Half-Page-->
Contrasting view of multiple Earths
. I chose the following* -->
(*or would the Moenke spread of multiple Supermen analogues from the
Final Crisis
tie-in be better? Ideas?)
Half-Page-->
Superboy-Prime
. Need a good pic. I'm thinking the one where he's imprisoned by the GL Corps and carving the "S" into his chest, but I'm open to suggestions.
Half-Page-->
The Earth-8 Extremists
from their
Countdown
tie-in mini. Need a good pic.
Half-Page-->
Sorcerer's World
. I chose the following because it also shows pics of various other mystical worlds -->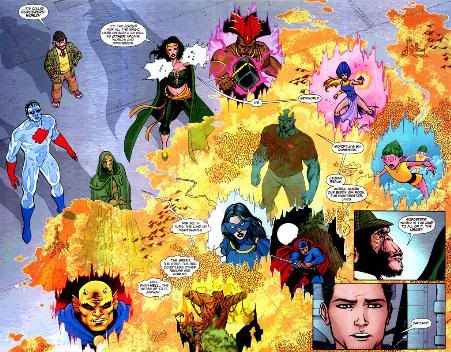 Half-Page-->
Hell
. I chose the following from
Reign in Hell
because it includes a map and it's also on point for the current structure -->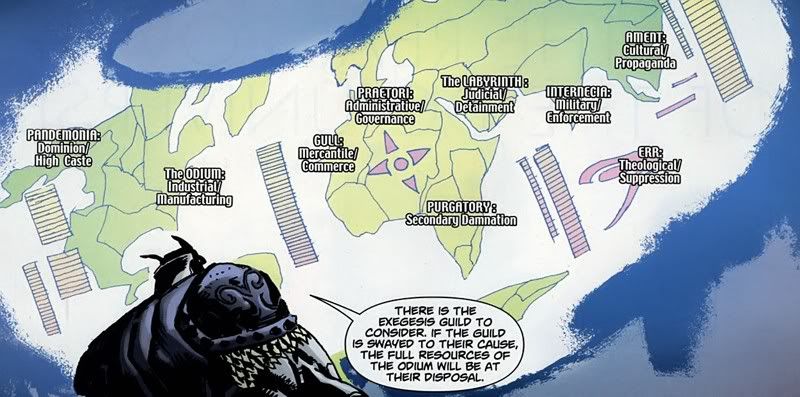 Half-Page--> Something cool that deals with mystical dimensions. Entirely open to suggestion.
Half-Page-->
Limbo
. I chose the following from the Superman tie-in to
Final Crisis
-->
Half-Page-->
Fourth World stuff
. I just can't seem to find a pic I like that shows enough different Fourth World stuff to justify inclusion. Open to the crowd for ideas.
Half-Page--> Good and scary picture of the
Anti-Monitor
. Maybe the one of him on Qward in
Brightest Day
being confronted by Boston Brand?
Also, as possible trade-ins, images of the following would be cool:
Doctor Occult (recent), Batman Beyond (comic, not TV series), something from Countdown showing multiple versions of a lot of different characters, Lords of Order/Lords of Chaos, and The Pax Dei.
Many, many thanks to anybody that chooses to help, guys.