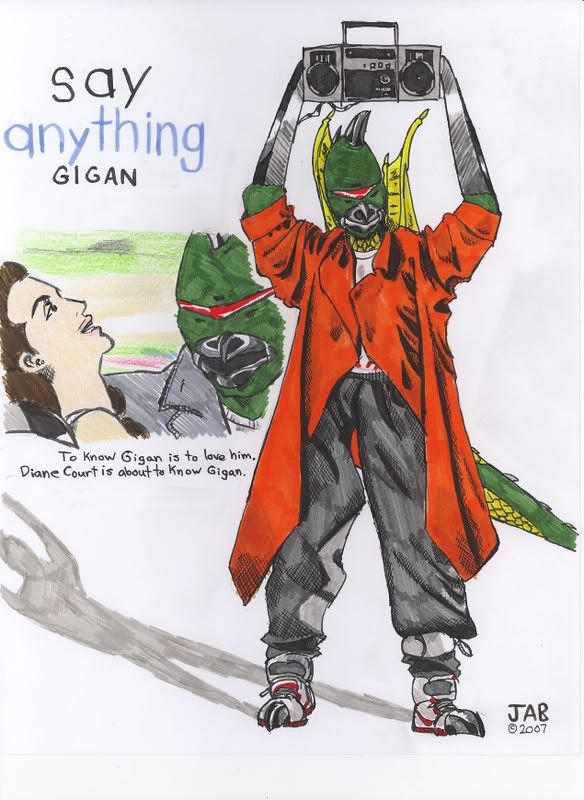 Quote: "*ccchhhkk! cchhhkk!! CHHREEEEWWRRRR!!! CHHHREEEEWRRRR!!!!"
GIGAN (Gaigan- Showa Era)
Created By:
Jun Fukuda
First Appearance:
"Godzilla vs. Gigan" (1972)
Role:
Evil Monster, Cyborg Space Chicken
Size:
65 meters (214 feet)
PL 15 (185)
STRENGTH
20
STAMINA
16
AGILITY
-2
FIGHTING
9
DEXTERITY
0
INTELLIGENCE
-4
AWARENESS
0
PRESENCE
-2
Skills:
Expertise (Survival) 5 (+5)
Intimidation 11 (+9, +18 Size)
Advantages:
All-Out Attack, Improved Critical (Hooks) 2, Fast Grab, Withstand Damage
Powers:
"DaiKaiju"
Growth 19 (Str & Sta +19, +19 Mass, +9 Intimidation, -9 Dodge/Parry, +4 Speed) -- (168 feet) (Feats: Innate) (Extras: Permanent +0) [39]
Protection 5 (Extras: Impervious 29) [34]
"Animal Senses" Senses 3 (Low-Light Vision, Acute & Extended Scent) [3]
"Space Creature"
Immunity 10 (Life Support) [10]
Movement 2 (Space Travel 2) [4]
Flight 9 (1,000 mph) (Flaws: Winged) [9]
"Buzzsaw Chest" Strength-Damage +3 (Feats: Improved Critical 4) (Extras: Multiattack 24, Penetrating 16) (Inaccurate -1) (46) -- [48]
AE: "Giant-Size Smash" Damage 15 (Extras: Area- 60ft. Burst +2) (45)
AE: "Hook Hands" Strength-Damage +0 (Extras: Penetrating 15) (15)
Offense:
Unarmed +9 (+20 Damage, DC 35)
Buzzsaw Chest +7 (+23 Damage, DC 38)
Area Attacks +15 Area (+15 Damage, DC 30)
Initiative -3
Defenses:
Dodge +6 (DC 16), Parry +8 (DC 18), Toughness +21 (+15 Impervious), Fortitude +16, Will +4
Complications:
Disabled (Animal)- Gigan cannot speak, nor use his hooks to easily manipulate objects.
Enemy (Godzilla)
Reputation (Coward)- Unlike most Godzilla foes, Gigan will quickly turn and flee if the battle doesn't go his way.
Total:
Abilities: -4 / Skills: 16--8 / Advantages: 5 / Powers: 147 / Defenses: 30 (186)
-Aaawwwww YEAH, Cybernetic Space Chicken of Death to the rescue! Gigan is a monstrous, lethal foe of Godzilla (making him BLEED more than once), flying down to kick ass and be vicious, but he usually runs once things get too hairy. I just love Gigan's bizarre appearance- a green body, golden scales, fin-like wings, a metal beak, Cyclops visor and big ol' hook hands and feet make for one strange-looking Kaiju. Such is my love for Gigan's appearance that I sometimes use him as a personal avatar, just in humanoid form. Plus, I've discovered that every movie poster in the world would look more awesome with Gigan replacing one of the major characters.
-Gigan is PL 15, matching Showa Godzilla in most respects. He lacks a Blast, but is lethal in-close, possessing a crazy-ass Buzzsaw Attack that uses a Penetrating Multiattack with four ranks of Improved Critical- he made Godzilla bleed, and nearly slew both he & Anguirus, and only barely tends to lose (at which point he flees). It seems cowardly, but considering Godzilla's death count, it's probably not a half-bad idea to bail when things start going bad.
-The Final Wars movie features a bunch of new variants of Gigan, with an Eye Laser (Blast 22-ish), Flying Buzzsaws (Same, with Split and Homing 4), and his hooks being replaced with CHAINSAWS. And MAN, did this update ever look cool. Easily the best redesign of the whole film, despite going down to Mothra.