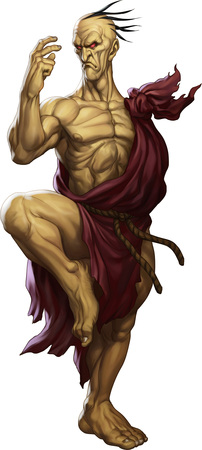 ORO
Created By:
Unknown
First Appearance:
Street Fighter III (1997)
Home Country:
Japan (lives in Brazil)
Role:
Mary Sue, The Old Hermit
Vague Martial Art Basis:
Senjutsu
PL 10 (171)
STRENGTH
3
STAMINA
3
AGILITY
5
FIGHTING
9
DEXTERITY
0
INTELLIGENCE
2
AWARENESS
4
PRESENCE
0
Skills:
Acrobatics 7 (+12)
Athletics 7 (+10)
Close Combat (Unarmed) 7 (+16)
Expertise (Martial Arts) 14 (+16)
Expertise (Hermit) 8 (+10)
Perception 10 (+14)
Ranged Combat (Ki Blast) 4 (+12)
Stealth 7 (+12)
Treatment 6 (+10)
Advantages:
Assessment, Chokehold, Defensive Attack, Defensive Throw, Diehard, Evasion, Fearless, Follow-Up Strike, Grab Finesse, Great Endurance, Improved Critical (Special Moves) 2, Improved Critical (Nichirin Sho), Improved Grab, Improved Initiative, Luck, Ranged Attack 8, Takedown (total 2), Tracking, Ultimate Martial Arts Skill
"World Warrior" Fighting Style:
Accurate Attack (Jab), All-Out Attack, Defensive Roll, Extraordinary Effort, Fast Grab (Grab), Improved Critical (Unarmed) 3, Improved Defense, Improved Hold, Improved Trip (Throw), Power Attack (Roundhouse), Takedown, Withstand Damage (Block)
Powers:
"Power Punch" Strength-Damage +1 [1]
"Ki Mastery" Immunity 3 (Aging, Disease, Poison) [3]
"Detect Ki" Senses 3 (Detect Ki- Ranged, Acute) [3]
"Special Moves"
Strength-Damage +2 (Inaccurate -1) [1]
"Nichirin Sho" Blast 5 (Diminished Range -1) (9) -- [11]
AE: "Telekinesis" Move Object 4 (8)
AE: "Tengu-Stone" Aura 4 (Flaws: Tiring, Limited to 3 Rounds) (8)
Offense:
Unarmed +17 (+4 Damage, DC 19)
Special Moves +15 (+6 Damage, DC 21)
Blast +12 (+5 Ranged Damage, DC 20)
Initiative +9
Defenses:
Dodge +13 (DC 23), Parry +16 (DC 26), Toughness +3 (+4 D.Roll), Fortitude +6, Will +11
Complications:
Motivation (Finding a Successor)- Oro is now looking for a new person to train in his style, after years of living like a hermit. This will be accomplished by beating the $#!% out of people.
Responsibility (Man Out of Time)- An old, weird-looking pervert, Oro is unmistakeable and doesn't "get" a lot of modern society, and this will make all social situations more difficult.
Weakness (Predictability)- Oro, like all Street Fighters, cannot simply "spam" out the same attack over and over again, as the opponent will expect the attacks, and be ready for them (and a counterattack). The third time he tries the same technique (or same combo of techniques) in a short span, he will be at -2 to Accuracy, AND to his Active Defenses in that round. All will decrease by 2 every successive round the same move is done.
Total:
Abilities: 52 / Skills: 68--34 / Advantages: 27 + 14 / Powers: 19 / Defenses: 25 (171)
-Oro... God how I hate this character. He's like a perfect microcosm of everything I dislike about later "Street Fighter" designs. He's introduced as basically a Mary Sue guy whose Martial Arts skill is SOOOOO great that he has to tie up one of his arms just to avoid killing everyone, and he's said to be greater than Ryu, and equivalent to Akuma. Not to mention the fact that he's full of asinine humour and "bwah-hah- he has SNOT coming out of his nose!" types of dumb gags that suit a children's game more than something featuring the mighty World Warriors. And then there's his appearance- just some weedy, short, shrivelled old man (a caricature of the late head of the famous Gracie Jiu-Jitsu family) in a weak tattered outfit. This guy just SUCKS.
-Fighting Style: Oro is kind of a mix of his in-game self and his in-canon self. He's SUPPOSED to be the greatest of all fighters, comparable to Akuma himself, but in the games he's just another guy. Therefore, I made him a powerful PL 10 character all-around, with more Advantages than your average World Warrior (he's much more expensive than Ken or Ryu), a decent Blast (like most "Hold-Back" projectiles, it isn't Distracting), and other good stuff. He utilizes a lot of accuracy-modifying Attack Advantages, especially Power & Accurate Attack, showcasing his eternal mastery of the martial arts. His Super Arts include your standard Multiattack stuff, plus a "Tengu-Stone" move that summons three Telekinetically-controlled objects that can whip around like an Aura for a few rounds, causing extra damage. Going with a more in-canon format, you could amp Oro up to a PL 11, but I hate him so much that I refuse :).