Thought I would show a bit of behind-the-scenes on this entry. This is done for the Anonymous challenge over at ArtOrder. You can see other folks entries, as well as a link to the challenge itself here:
http://theartorder.com/2011/09/19/anonymous-artorder-challenge/
Basically, we had to ape a cross between an anime and painted style that was used a lot in the Duelmasters CCG. NOT my comfort zone at all. But I did see that there is a lot of line in the original Duelmaster's art, combined with the digital painting stylings we see so much of in video game concept art. Again, NOT my comfort zone at all.
I do not do line on digital well at all... so I fell back on what I think gives a more live line, inking by hand. But since I knew that there was to be somewhat of a painting style, after inking and some erasing, I went back in with pencil to do just the hint of value shading... more like visual footnotes to myself while I went in and digitally painted. So... here is the ink/pencil scan... just so you can see where I was before the color hit the piece. I drew them separately, knowing I was going to move them around and get some overlap in PS. I also knew that I was going to have to finish the foot placement of the troll/ogre digitally, because I wasn't quite sure how he was going to get grounded... the "kitty" was easy, because he is leaping away and is airbourne. Reminds me a bit of Quinton Hoover's work, not as lyrical as his stuff, as I make marks the way I make marks (and he is so totally awesome!), but the strong ink line, backed with some lighter interior lines... similar vibe.
Then comes the color work, the background was entirely done digitally. It is an interesting "style", but I feel that it falls short of the Challenge, that to ape a particular style. I just don't have enough experience in doing something like that, but it was sure FUN to try!!!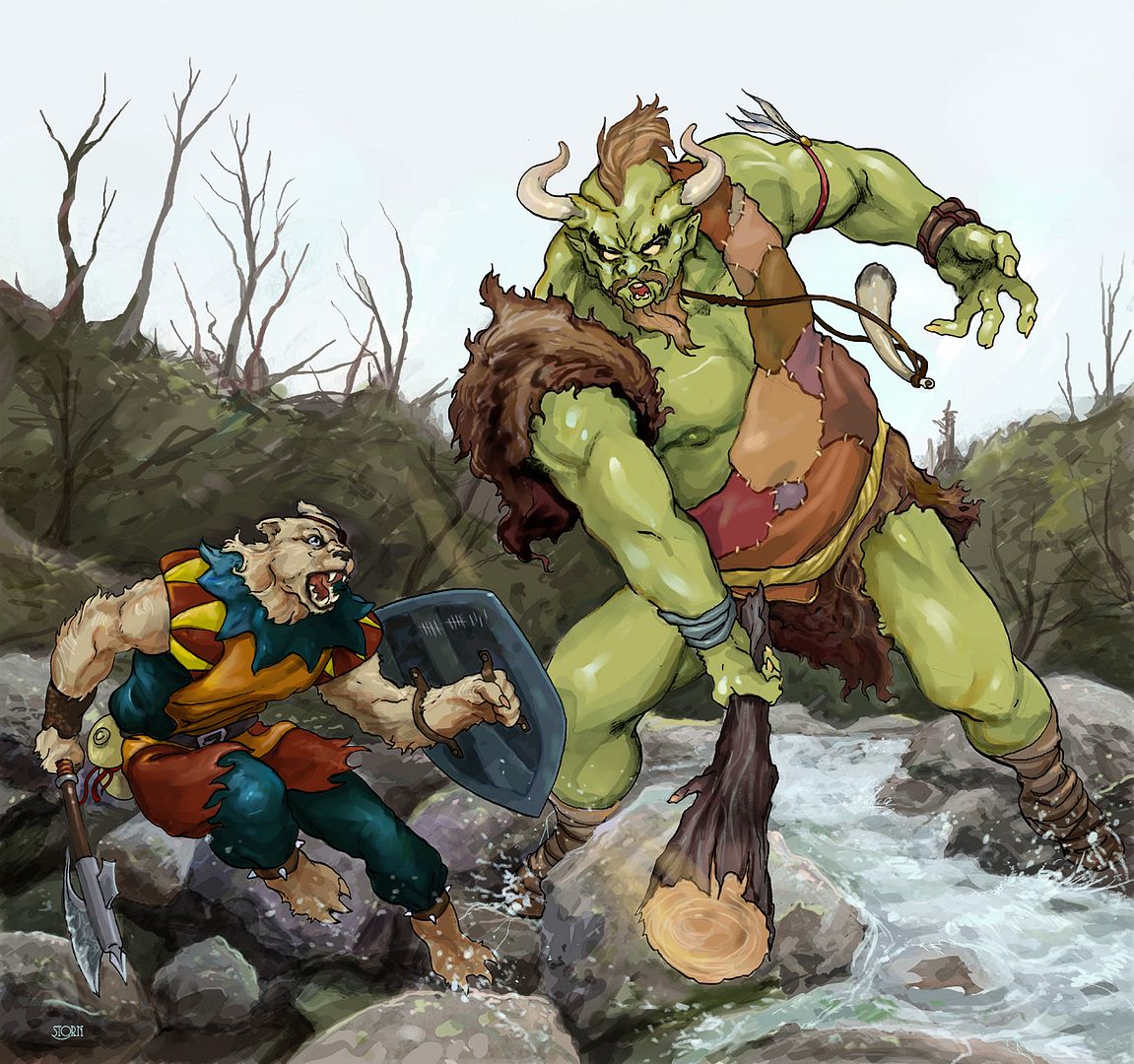 These works are licensed under a Creative Commons Attribution-NonCommercial-ShareAlike 2.5 License.