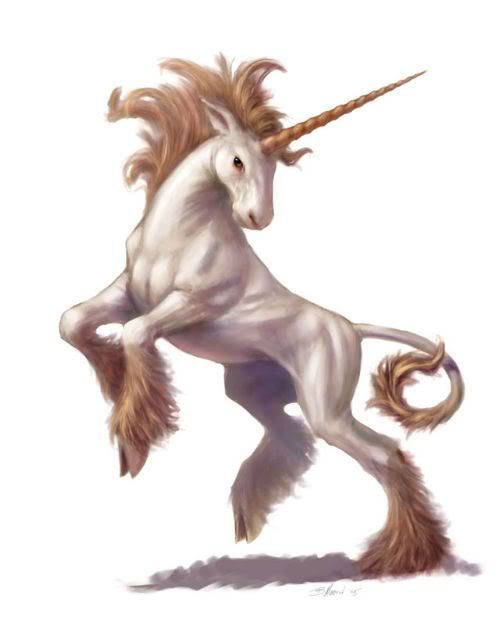 "I'm alive....!"
UNICORN (PL 10)

Strength
5,
Stamina
5,
Agility
3,
Dexterity
1
Fighting
3,
Intellect
0,
Awareness
5,
Presence
7
POWERS
Alicorn:
Array (32 points)
•
Neutralize Poison:
Close Nullify Poison 8 (Broad, Simultaneous), Linked to Healing 8 (Restorative; Limited to Weaken effects caused by poisons) – 32 points
•
Alicorn Gore:
Strength-Based Damage 3 (Feature [the alicorn is treated as a magic weapon]) – 1 point
•
Alicorn Soothing:
Healing 8 – 1 point
Fast:
Speed 2 (8 mph) – 2 points
Forest Mastery:
Enhanced Expertise (Survival) 4 (Limited to home forest), Enhanced Stealth 4 – 3 points
Forest Step:
Teleport 8 (Accurate, Easy, Extended, Limited to the boundaries of the unicorn's forest home) – 25 points
Large Body:
Growth 4 (Innate, Permanent; -2 active defenses included) – 9 points
Protective Aura:
Enhanced Defenses 8 (+2 to all Defenses), Burst Area Immunity 5 (Mind Control; Affects Others) – 23 points
Unicorn Senses:
Senses 8 (Darkvision, Detect Evil Presences [acute, ranged], Low-Light Vision, Scent, Tracking [olfactory]) – 8 points
ADVANTAGES
Animal Empathy, Close Attack 2, Languages 1 (Common [Sylvan is native]), Skill Mastery (Expertise [Survival])
SKILLS
Athletics 4 (+9), Expertise (Survival) 4 (+4, +8 in home forest), Perception 4 (+9), Stealth 4 (+7)
OFFENSE
Initiative
+3
Gore
+5 (Close, Damage 8]
Unarmed
+5 (Close, Damage 5)
DEFENSE
Dodge
7,
Parry
4,
Toughness
5
Fortitude
11,
Will
8
POINTS
Abilities 42 + Advantages 5 + Defenses 10 + Powers 104 + Skills 8 = 169 Total
COMPLICATIONS
Disability:
A unicorn has no hands.
Reputation:
Unicorns are known to be powerful magical guardians of nature. They tend to only associate with mortals who are pure and virtuous.
A unicorn is a magical sylvan creature resembling a beautiful white horse. It is easily distinguished from a normal horse as it has cloven hooves, a lion's tail, and a single long ivory horn (called an alicorn) that protrudes from its head.

Unicorns tend to be peaceful, benevolent creatures that serve as guardians for woodlands. They protect the forest and its creatures from harmful beings that would seek to despoil the land and slay the beasts within needlessly.

Unicorns are attracted to innocence; particularly young maidens. Some young women have even proven themselves to be capable of taming and riding a unicorn as a mount. Only the foolish, however, consider a unicorn to be a dumb animal. It is an intelligent magical beast with vast mystical powers at its disposal.