Well, I'm back, at least for the moment and I'm still 2E. Honestly I've tested 3E and really it doesn't work for me - it doesn't help that the new Mastermind Manual looks vastly inferior to his predecessor in terms of options. Anyway I don't think I could find a better quote to get back here.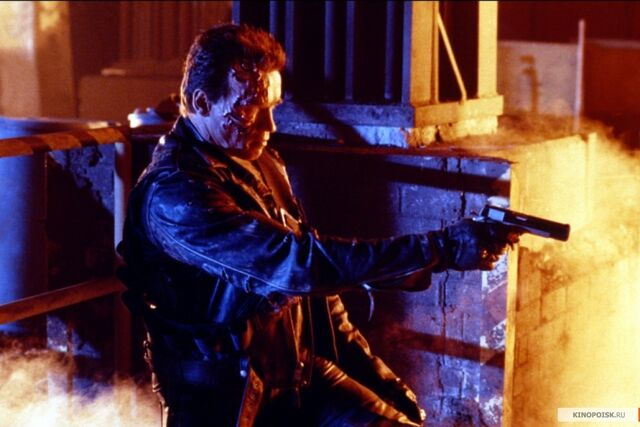 I'll be back.
The Terminator
Cyberdyne System Model 101 - T-800
Power Level:
8 (116pp)
Abilities:
STR: 26 (+8), DEX: 14 (+2), CON: - (-), INT: 14 (+2), WIS: 14 (+2), CHA: 8 (-1)
Skills:
Bluff 4 (+3), Climb 4 (+6), Computers 3 (+5), Craft (electronic) 2 (+4), Craft (mechanical) 2 (+4), Drive 5 (+7), Intimidate 9 (+8), Knowledge (history) 3 (+5), Knowledge (tactics) 4 (+6), Language 2 (3 pre-programmed languages at GM choice), Notice 5 (+7), Search 5 (+7), Sense Motive - (+2/+6 [Dedication])
Feats:
All-Out Attack, Attack Focus (ranged) 2, Dedication (pre-programmed mission), Diehard, Dodge Focus 2, Eidetic Memory, Power Attack
Powers:
Robot
(Immunity 30 [Fortitude Saves]; 30pp)
Hyperalloy Chassis
(Density 6 [weight x5]; Extra: Durantion [continuous]; Flaw: Permanent; 18pp)
-- Immovable 2




-- Super-Strength 2

(heavy load: 4000 lbs)
Hyperalloy Armor Plates
(Protection 6; Extra: Impervious [2 ranks only]; 8pp)
Mimic
(Feature 1 [can reproduce any sound previously heard; 1pp)
Sensors
(Super-Senses 6 [Infravision, Analytical (visual), Direction Sense, Distance Sense, Ultra-Hearing; 6pp)
Combat:
Attack +8 (+10 ranged); Damage +8 (unarmed), or by weapon of choice; Defense +7 (+3 Flat-footed); Initiative +2
Saves:
Toughness +9 (Impervious 5), Fortitude [immune], Reflex +4, Will +6/+10 [Dedication]
Drawbacks:
Disability (no olfactory senses [uncommon, major]; -3pp), Disability (unnatural smell [common, minor]; -2pp), Disability (Pseudo Flesh [see notes])
Abilities 4 + Skills 12 (48 ranks) + Feats 9 + Powers 63 + Combat 26 + Saves 6 - Drawbacks 5 = 115
ok, to be honest I've watched Terminator 2 a milion times and I had the unfortunate idea of renting T-3, but I never saw the original movie. As a result this build might lack some details, in that case let me know
I decided to build the T-800 at PL8 to match my
Robocop build
. I know that neither the comic book, nor the videogame are canon, but in my mind these two are built from the same mold
even at PL8 the T-800 is a mean fighter, with Impervious 5 he can literally walk through gunfire without even a scratch, it took a high caliber slug or a dedicated anti-tank weapon to stop him
In terms of skills and feats this Terminator is bare-bones, just the basic Skynet combat/infiltration template, but it has ample room for adapting to mission parameters. For the same reasoning I didn't include any weapon, based on the time period the T-800 will "requisition" some appropriate weapons and transportation
as far as the Attack bonus goes, I worked on the assumption that man-portable weapons will usually tops their damage at +6 (a slug or a minigun), if the T-800 uses a more powerful weapon (like a rocket launcher) simply gave him an attack bonus penality or wave the effect as a conditional bonus
opposite to Robocop I don't recall the T-800 being especially vulnerable to magnetic effects (I guess his chassis isn't magnetized), so no drawback here
the Pseudo Flesh drawback is from JD's old thread and I think it works pretty well
JoshuaDunlow wrote:

Psuedo Flesh (0-1 pt Drawback)

Everytime the character suffers a lethal/injured wound, the Terminator in question looses a cumulative -1 to all Bluff & Diplomacy Checks, but gains a +1 bonus to Intimidation Checks till the Penalty and Bonus reaches -4 bluff & diplomacy /+4 intimidation. Its up to you, if this is actually worth a pp or not. Since the benefits cancel each other out really. Each Lethal/injured wound is technically damage to the outer skin covering, 1 or 2 pts of damage is hideable if given time to do so. But by the time the damage has reached the 4th Lethal/injured wound, there's hardly any skin left.