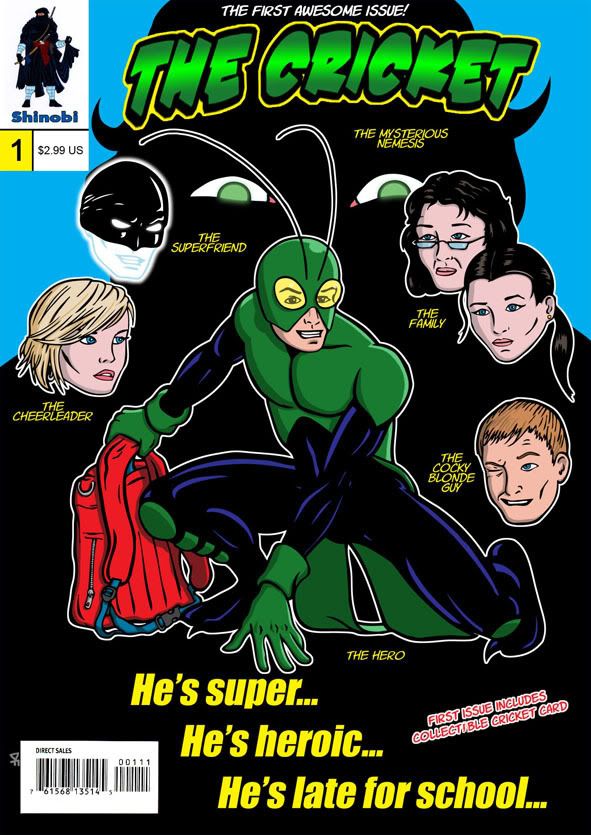 This is my first entry into my new "Crime Computer" ™. Danielle managed to scrounge one up for me and even installed a police scanner. Coo-ool!

Well, where do I begin? Since I'm encrypting these files I may as well start off with a bit of a background about who I am.

My name is Chris Jenkins. I also go by the name of 'The Cricket'. I am a super-hero. Weird, huh? Sometimes it is... anyway, I live in the Fens. It's a really bad neighbourhood but it's all my Mom could afford after my Dad took off. I mean, she's had to raise my sister and me since I was 13 and my sister 15. Let's just say he's not really in anyone's good books (BTW I'm 15 now). My Mom's a nurse and she's also been doing some extra work down at the local corner store, trying to pay the rent and keep some money aside to get us out of here. My sister left school and now holds down a waiting job in Midtown. That's convenient for me, because I earned a scholarship to Midtown High. Yeah, Chris Jenkins - Boy Genius!!


Let's just say I was tired of the body searching at the local school. Anyway, it was the first week of semester and we had a field trip to Freedom City University. We were looking at the a telescope they had bought and also seeing whether college life was for us. Well, I happened to break off from the group to answer nature's call (the call to pull my underwear out from the great divide, so eloquently positioned by Bruiser O'Doil). I'd retrieved my shorts and was trying to find my way back to the group when some crazy scientist ran up behind me and emptied a syringe of yellow goo into my butt! Let's just say my butt had seen better days.

I kind of got all woozy and somehow managed to stumble into the cafeteria. People were screaming and I could see (through blurry eyes) some guy hurling electrical bolts at the scientist. Maybe he'd had his butt syringed too? Anyway, lightning bolts and gas stoves don't mix well. There was a huge explosion and I kind of blacked out. When I came to, I was choking on smoke and there were flames all around me. The only thing I could see was a light through the smoke. I leapt at it and smashed up and out of a window... 30 feet above the cafeteria!! Somehow, I managed to get home and luckily my Mom and sister were visiting my Gran because I slept for two days. When I woke up, whatever that stuff was had made some changes. Suffice to say, my anatomy is not quite, or should I say fully, human anymore. Unless you call retractable talons on your arms, legs, toes and fingers, human?

I also had two zits on my hairline. Turns out I wasn't in need of Clearasil after all. They were vestigial antennae. And they kind of enable me to be on my guard 24-7. Well, when I'm conscious anyway.

The next day, I discovered I had a lot of strength. I pulled open the fridge and nearly pulled the fridge over on me. I could climb the walls like a bug and my legs... my legs could propel me great distances in single bounds. You see, the bone structure in my legs had changed (and are probably still) enabling me to build up a great deal of kinetic energy that snaps off into a huge leap. I scared the hell out of myself the first time it happened but luckily my body has adapted to land okay.

Well it turned out that the electrical guy, who calls himself Voltage, was trying to "persuade" the FCU Professor to hand over his bug research. What I hadn't noticed was the Professor had slipped his research into my backpack. You don't notice these things when someone syringe sticks you. Seems most of his research ended up in my gluteus maximus.

I tried to do the right thing, I mean the story was all over the news, and I called the cops and agreed to meet them in a public place... High School of course. You guessed it, crooked cops, as if I hadn't seen enough Jackie Chan movies to see that coming a mile away. Instead of cops, it was that guy Sparkplug, looking for me. Well, luckily for me it was some primitive sporting ritual - the homecoming parade (or whatever), and I got to see Tiff for the first time in her cheerleader get-up... woo-hoo... sorry about that, anyway, the Crickets, our oh-so-mighty team had beaten the Kingston Crows and the geniuses had the two teams' mascots duking it out on a float. I climbed into the float and hid (holding my breath because the guys in the suits had been drinking a little more than Gatorade, that's for sure).

Well, old Static got a bit upset and started roughing up some of the guys from school. I had to do something. A stray electrical bolt KOed the mascots and I dragged the Cricket guy into the float - let's just say it was an inspired idea suiting up in a sweaty, booze soaked mascot suit. Then I popped outside to calm Sparky down which, eventually, I managed to do by swatting him with someone's Harley. So I guess if this were a comic, old Carpet Zap is my first Rogue.

Mom's calling me to dinner, I'll tell you about the Glad Bag Man next time. Over and out.

This is the first installment of the Cricket's commentry of Reebo's adventures. I am planning on posting art with these posts... scenes from our adventures. Coming next - Plasmaster attack! - with image of the Plasmodic one.