Hiya Gang,
I was working on a NPC for a few games that I run (I do both M&M and Hero in the same world) and thought, since the latest is a Halloween/Horror themed baddie, I'd share with the boards
Enjoy and Happy Halloween
The Harvester
PP 247; HP 8
Concept:
Serial Killer with an Edge
"..."
Background:
You hear a lot of things around the campfire. Remember the one about the hitchhiking ghost? Or how about the guy with a hook for a hand? Hey ... remember the one about The Harvester? No? Well, pull up a log and listen carefully...
Rumor has it that back in the 1800s in upstate New York, there was a settlement of farmers that had some problems with practitioners of the black arts. Witches? I dunno about that ... all I know is that these people had killed livestock in some kind of rituals ... something that made the farmers quite upset.
Having had their fill, the farmers decided to take care of the problem and hunted almost all of the dark worshippers, killing them on the spot. But, what the farmers didn't know is that these cultists had made a pact involving a young boy who also happened to be their only surviving member. As the farmers returned to their lives, the boy grew in age, living off the land until he had grown into adulthood and was presented with a magical scythe and sickle. By who? I dunno ... they never say. I'd guess it was the dark spirit that the pact was made with.
Anyway, the tale goes on to tell how the boy, now called The Harvester, killed all the farmers and their families, sending their spirits to his master who, in turn, grants The Harvester eternal life. That way he can continue his killing spree and supplying souls for his master. They say he still wanders the woods around here ... waiting for people to wander ...huh?
Hey, what's that noise? Where are you guys going? Guys? Oh crud! Run! Ruuuun! Ruu >splutch<
Alternate Identity:
Unknown
Identity:
Unknown
Occupation:
Psychopathic Killer
Group Affiliation:
None
Base of Operations:
Upstate NY, Mobile
First Appearance:
House of Haunts #18 (1981)
Sex:
Male
Age:
100+?
Height:
6'5"
Weight:
332 lbs.
Eyes:
Black
Hair:
Grey-Brown
Description:
A tall and muscular man, the Harvester dresses in a tattered cloak of sewn leather patches (or is that skin?) and a tattered tunic with pants. In recent years, he's been seen wearing some knee padding and laced up, military-styled boots, as well as a leather belt with a sewn seam and short workers gloves. Though a hood covers his head, the tarnished silver mask that covers his face is distinctively plain with only his pitch colored eyes being apparent from behind it. In each hand he carries a weapon: a tarnished silver sickle and a scythe made of wood and tarnished silver.
Personality:
The Harvester is only interested in killing anything living ... whether it is the deer in the woods or the people on the streets of a nearby town. He doesn't seem to care for anything or anyone except for those that he seems to home in on for his killing needs. Once wronged by someone (whether they avoid his blade or save someone from being killed), The Harvester doesn't stop until the meddler gets his vengeance on him or her.
Powers and Abilities:
An unstoppable killing machine, The Harvester can be hurt, but is hard to keep down due to his incredible healing rate. Though many have tried in the past, the brutal killer has survived drowning, fire and even dismemberment. Armed with an unbreakable sickle and magical scythe, The Harvester stalks his prey with an uncanny sense ... almost as if he can tell where they're going to be.
in combat, he doesn't seem to use any tactics ... rather he swings his weapons at his targets and attempts to batter them down. He shows no fear of his opponent, no matter how powerful they may be, and has been able to avoid capture on many occasions.
The Harvester:
PL 16; Init +2 (Dex); Defense 16 (+4 base, +2 Dex); Spd 30 ft; Atk +13 melee (+12L, Scythe), +16 ranged; SV Dmg +15, Fort +5, Ref +2, Will +1; Str 20, Dex 14, Con 20, Int 10, Wis 12, Cha 15
Skills:
Hide +5, Intimidation +8, Move Silently +5, Search +4, Survival +4
Feats:
Attack Focus (Armed), Detect (Living Beings), Durability, Improved Critical, Infamy, Power Attack, Track
Powers:
Protection +6 [
Extras:
Amazing Save (Damage), Mental Protection;
Stunts:
Immunity (Aging, Critical Hits, Disease, Exhaustion, Poison, Starvation);
Source:
Mystical; Cost 6 pp; Total 26 pp], Regeneration +10 [
Extras:
Back from the Brink, Never Say Die, Regrowth, Reincarnate;
Source:
Mystical; Cost 8 pp; Total 80 pp], Super-Strength +2 [
Extras:
Intimidating Presence;
Stunts:
Lethal;
Source:
Mystical; Cost 7 pp; Total 12 pp]
Devices:
Indestructible Scythe +10 [
Effect:
Weapon;
Stunts:
Penetrating Attack;
Source:
Mystical; Cost 3 pp; Total 12 pp], Soulreaver +12 [
Effect:
Weapon;
Extras:
Drain (Wisdom), Slow Recovery;
Source:
Mystical; Cost 3 pp; Total 36 pp]
Weakness:
Berserker (Major), Disturbing (Moderate)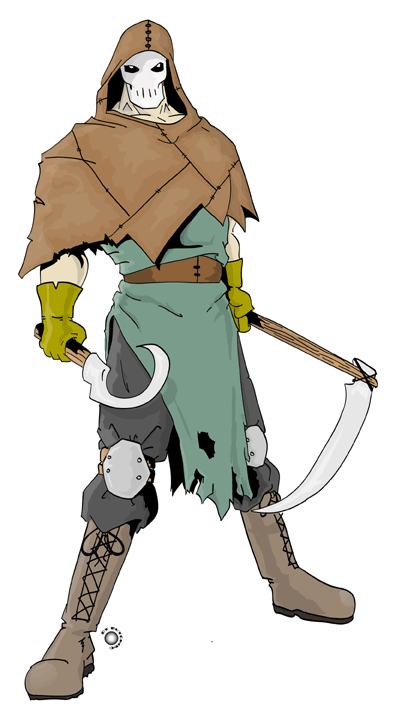 Harvester is the property of Dwayne T. Butchino. M&M is owned by Green Ronin Games.